Research suggests that life experiences, not material things, are the key to happiness. Nonetheless, by and large, people still choose to spend more of their money on material items because they believe they're of greater value. After all, it's pretty easy to peg a value to a new flat-screen TV that costs $4,000. But it's hard to estimate the value of a great memory born of an amazing experience.
The same principle applies in marketing. Provide a service to a client and you'll earn a fee. But provide a positive, memorable experience and you'll earn not just a fee, but a loyal ally and enthusiastic advocate for your firm. Clients will come back for more — and bring others with them.
What Is Brand Experience?
There are two types of services that lawyers can provide to clients. The first is legal service, which relates to quality of professional skill and work product. Legal service is, obviously, critically important to the success of a client relationship. But let's face it, most clients cannot distinguish between good and great work product. Moreover, basic competence and technical proficiency are often presumed — table stakes when it comes to business development opportunities.
The second type of service lawyers provide is client service, which relates to the quality of brand experience one creates. Last month's "One of a Kind" post focused on the importance of building a personal brand, which involves telling clients and prospective clients what to think about you. But that is only half of the brand equation. Equal, if not more, attention must be focused on creating an authentic brand experience, where your brand speaks for itself through its interaction with clients.
So what does this mean in the real world? While many clients cannot judge for themselves the quality of legal work product, all clients can distinguish between an attorney who returns calls and responds to emails in a timely fashion and another who doesn't; one who writes clearly, and another whose communication is filled with jargon and legalese; one whose receptionist is pleasant and reception area is aesthetically pleasing, and another whose staff is rude and workspace is cluttered; and one who proactively counsels, educates and imparts wisdom, and another who is always reactive.
Brand experience is about providing intangible value that leads to tangible results.
From the start of a pitch, to the conclusion of a matter, to the interim period between engagements, lawyers need to create experiences that make clients want more. Pleasant, educational, professional, and interesting experiences are fundamental to building a one of a kind practice.
Brand messaging can be knocked off — that's a big reason why most firms look and sound so similar. But unique, authentic brand experiences cannot.
Have you walked in your clients' shoes and stress tested your brand experience recently? If not, you should.
The Six Pillars of Brand Experience
Lawyers and law firms fail to focus on brand experience for various reasons. One is lack of awareness — with everything else on their plates, it's simply not on the radar screen. Another is lack of understanding — it's not considered a priority. Perhaps the biggest reason is fear — there's perceived safety and comfort (albeit false) in conformity. But rather than worrying about being different, the focus should be on being better. Being a better lawyer, building a better personal brand, and providing a better brand experience.
There are six pillars to creating an awesome brand experience.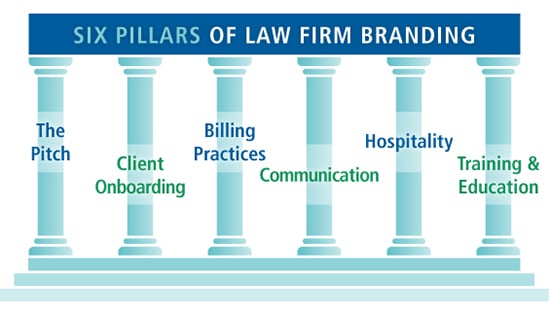 1. The Pitch. When forming new client relationships, it all starts, and too often ends, with the pitch. Instead of reciting bios and reading PowerPoint slides, use the stage you've been provided to add some theatrics to what's typically a pedestrian performance. Dig into the details of the challenges faced by the prospective client to demonstrate not just a sense of who you are, but what it would be like to work with you.
Do your homework in advance and impart some wisdom by educating the client about industry trends, risks they may face from recent rules and regulations, and unconsidered opportunities.
Finally, focus on "receiving" rather than "pitching," and ask more questions than you answer. We all hate being sold to, but most of us enjoy talking about ourselves. Being a good listener allows you to understand what really matters to the new client, and not what you think matters.
2. Onboarding. For many lawyers and law firms, "onboarding" a client involves an exchange of signatures on an engagement letter full of legalese dealing with "mandatory arbitration" and "forum selection" clauses. Not only is this unpleasant for clients, it's a missed opportunity for lawyers. Onboarding — how we welcome a client into our firm — should be a process that puts the client at ease, rather than causing them to put their guard up.
It should be a discovery process during which you get to know your client and the client gets to know you. A great way to do this is to provide clients with a written set of principles, promises and processes that explain the brand experience you offer. By getting it out there in writing, you and your staff will be more apt to live up to it.
It's also a time for setting expectations. Halfway through the engagement is not the time to find out you had different expectations about objectives or pricing. Having those conversations up-front will preempt an uncomfortable one down the road.
3. Communication. Communication is key to brand experience. Effective communication requires three steps: requesting preferences, being proactive and identifying problem solvers.
During the onboarding process, ask your client his or her preference for receiving information from you. Some like email, some prefer phone calls. Others want to meet face to face. Some appreciate access to updates and information via a cloud-based project management system. Timing is also important. A one-size-fits-all approach of providing bi-weekly status updates doesn't work for everyone. But you'll never know unless you ask. If you really want to step up your game, try sending a handwritten note once in a while.
Being reactive, rather than proactive, in your communications is a surefire way to spoil a brand experience. By the time a client reaches out to you for an update, it's likely that she has been wanting one for several days. Conversely, some clients are turned off by too much communication, seeing dollar signs every time an email from you lands in their inbox. This problem is easily avoided, though, by learning the client's preferences up-front. That way everyone's expectations are set, and you can tailor your approach accordingly.
Finally, provide clients with an outlet for communicating concerns. Designate a client ally — someone who can receive, and more importantly resolve, problems or misunderstandings that may arise. Larger firms with more resources may consider hiring a Chief Experience Officer. At smaller firms, the partner in charge of the matter may assume this role. The important thing is that the client has someone to turn to, or else she may turn to another firm.
4. Billing practices. We all know clients disdain endless series of .1 and .2 time entries on bills. But what can be done about billing to better the brand experience? For starters, try to create time entries that explain the value provided, not simply the services provided. Better yet, don't sell time. Declare independence from the timesheet and adopt a value pricing model. While some lawyers and firms have trended in this direction, there's a tremendous amount of room for brand experience innovation here.
Developing a value pricing model is a powerful brand experience tool. It will help with the pitch — you'll stand out. It will help with onboarding — the client will have greater peace of mind knowing that he won't have "bill shock" down the road. And it helps with communication — the client won't be apprehensive about making a phone call for fear of getting charged. By focusing less on inputs (time spent) and more on outputs (value provided), you'll create a better brand experience for your clients.
5. Hospitality. Does visiting your office feel like a trip to the dentist, or to the Ritz-Carlton? Drab decor, rude or unhelpful staff and lack of basic amenities such as hot coffee and cold water all hurt a client's perception of the value being provided. Hospitality is an area ripe for stress testing. Simply enlist a third-party confidant to call and visit your firm and share his impressions. The feedback will be enlightening.
6. Training and Education. Clients engage you not just because you're smart, but because they want to get smarter, too. Client training and education is a big part of brand experience. Not only is it appreciated by clients, but it's a great way to stay close to clients between matters.
There are countless things you can do, but a good place to start is to host thoughtful events, webinars and education sessions, and generate helpful thought leadership. Here's a specific idea: provide lunch and do a training session on location for a client you haven't worked for in a while. I bet you walk away with a new matter.
The Value of Brand Experience
The benefits of creating a great brand experience are bountiful.
Business development. Without differentiation, even if a client is not entirely pleased with its current firm, there's little reason to make a switch (the "devil you know" conundrum). A unique, valuable brand experience can provide motivation to make a change. At the very least, you'll be top of mind when the client next gets frustrated by his current firm's lack of brand experience.
Pricing. Clients turn to lawyers when they face challenges or opportunities. Here, price is less of a factor in purchasing decisions. Just as most consumers don't skimp when it comes to buying an infant car seat, most clients are willing to invest in their lawyer. In other words, clients aren't price sensitive, they're value sensitive.
This statement may strike some as groundless claptrap, inconsistent with their own real-world experiences in which they are incessantly beaten down on price by seemingly price-sensitive clients. But those who find themselves in this position must ask themselves a simple question: Am I selling a commodity or providing real value? If you're selling a commodity — meaning the services you provide are largely indistinguishable from those of your competitors — you'll be competing on price.
But clients aren't looking for cheap; in fact, most are suspicious of low-cost service providers. If confronted with no other basis for choosing a lawyer, however, they will opt for the lowest cost. Just as Starbucks has created an environment in which it can sell a cup of coffee at a premium, lawyers must provide clients a similarly unique experience in order to command premium pricing. Value, in the form of outstanding brand experiences, serves as a powerful point of differentiation.
Loyalty. It's much easier to retain an existing client than to find a new one. Lawyers and law firms that create great brand experiences, create clients for life. Moreover, clients will want to share this experience with others, evolving from simply clients, to client-advocates.
Think Like Apple
Apple isn't a $600 billion technology company. It's a $600 billion technology company that has revolutionized retail. Customers don't just want Apple's gadgets. They want the unique, interesting and fun experience that Apple offers, primarily through its retail experience. The gadgets — priced at a huge premium — are a means to an end. What makes Apple's disruption of retail so amazing is that retail was, ostensibly, already intensely focused on customer experience. But Apple was still able to upend the industry, creating a category of one that no one has been able to duplicate.
Lawyers and law firms have a similar opportunity, although disruption in the legal space is much easier since most competitors pay little attention to brand experience. Even small changes can pay big dividends.
Jay Harrington is co-founder of Harrington Communications, where he leads the agency's Brand Strategy, Content Creation and Client Service teams. He also writes weekly dispatches on the agency's blog, Simply Stated. Previously, Jay was a commercial litigator and corporate bankruptcy attorney at Skadden, Arps, Slate, Meagher & Flom and Foley & Lardner. He has an undergraduate degree in journalism and earned his law degree from the University of Michigan Law School. Follow him @harringj75.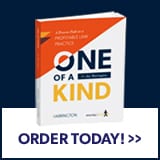 ONE OF A KIND:
A Proven Path to a Profitable Law Practice
Practical advice for building a more profitable practice. Almost every lawyer wants to command higher rates and attract more clients. But many are stuck perusing ineffective strategies. Others don't even know where to start. In his new book, lawyer-turned-legal marketer Jay Harrington lays out a path for lawyers to build a profitable practice.