Here's a cautionary tale of why having accurate business information online matters. Recently, I was running a little late picking up pizza for a local event, so I hurriedly asked Siri for the closest Papa John's location. After following my Apple Maps directions, I arrived at a counseling center instead. (Ironic? I think so.) I ended up at a Domino's a few blocks away, even though I much prefer Papa John's. I was frustrated and arrived at the event much later than I thought I'd be.
Business Information Accuracy Is Crucial for Law Offices
Similar scenes are playing out between clients and law firms across the country. However, while a potential customer may give a restaurant another shot, potential clients under emotional duress will not give your law firm a second chance if they can't reach you on the first try.
A Lost Opportunity for Your Firm
Consumers' patience is wearing thin with businesses that fail to keep their name, address and phone number (NAP) information up to date. In fact, a recent survey by BrightLocal found that 68 percent of consumers would stop using a business if they found incorrect business information online. You should find this shift in consumer expectations alarming, especially if you've done any of the following (ever):
Changed phone numbers
Added a new partner to your law firm name
Expanded offices to a new city or market
Recently started a new law firm
Google uses "citations" — also known as "business listings" or "linktations" — on sites such as Yelp, Facebook, Avvo and Justia to confirm that you are who you say you are (just like a citation on a college term paper). Building these citation sources at scale won't take you to the top of Google Maps, but inaccurate business information will absolutely result in losing clients to your competition.
So how does a law firm ensure its hard-earned marketing dollars aren't calling or walking into a competitor's office? Let's dive in!
Claim Important Citations and Check for Inaccuracies, Duplicates and Missing Information
I highly recommend using the Moz Local search tool to identify issues you may have with your major business listings. This useful tool helps you scan for complete, incomplete, inconsistent and duplicate issues surrounding your law firm's business information.

As you enter your details, you'll begin to see how major data hubs house your business information and share it with smaller citation sources. It's rather complex how this information trickles down, so for more information, see Whitespark's excellent post on the "U.S. Local Search Ecosystem."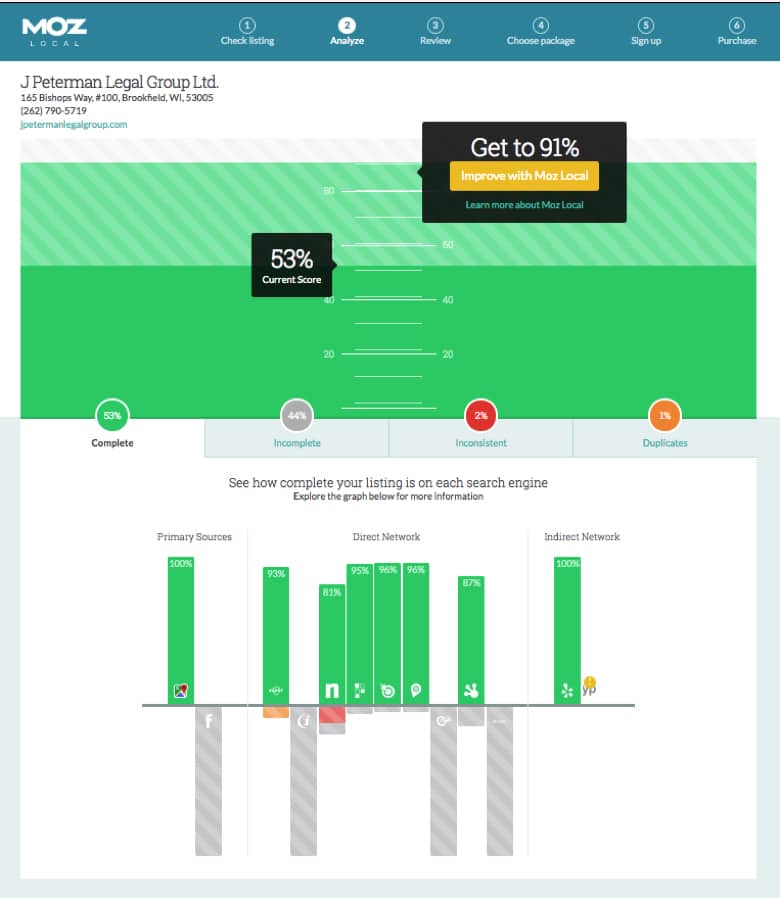 Moz Local does a great job showing potential issues to tighten up and makes it very easy to do, for around $99 per year. Remember, however, that even after cleaning up a citation source it may take upward of 40 to 120 days to see those changes reflected in Google's index.
Cover Your Law Citation Bases
What other law-related citations should you claim and check for inaccuracies? How many is enough? Whitespark has an amazing resource of attorney-related citations you can claim or build. When all else fails, there are 30 to 40 universal citations that every business should have and check for inaccuracies. Once you've landed these foundational "linktations," think about pivoting your tactics to more legitimate link-building strategies that will have a much larger impact on your search rankings.
Best Practices for Cleaning Up Your Business Information
How detailed do you need to be when cleaning up business information? What really matters and what can you ignore? This is a common question we get at Nifty. There are a few things to beware, especially if your SEO company wants to justify a perpetual citation cleanup or building.
First, some SEO companies will use scare tactics, showing you endless rows in an Excel spreadsheet of how "messed up" things are with your business NAP. Don't ignore this, but do ask them to verify which of the sites are indexed in Google and which ones aren't. If the site is not indexed, ignore it and move along. You'll find that many indeed are not indexed in Google's search results.
Second, not ALL discrepancies will be resolved and not ALL citations need to be in perfect harmony to do well in local search results.
Here are some best practices to live by when deciding whether to clean, or not to clean.
Always Clean:
You see a totally different business name conflicting with yours and you share the exact same address.
You see a totally different phone number for your location that does not ring to your business.
You see a wildly different business address conflicting with your address, for example, your 1st Street address is correct but you also see a 43rd Street address.
Your website URL is incorrect.
Any combination of the above.
Ignore:
You see close variants of your business name, for example, Woolery, Simon & Funk Law versus Law Offices of Woolery, Simon & Funk, or even Woolery, Simon & Simon. (A change in partners may be wise to fix if it's on a popular site like Avvo, for branding purposes, but in general, it is not necessary to clean.)
Inconsistent address abbreviations, for example, using STE instead of Suite.
The city in your address is right, but the ZIP code is wrong.
Tip: If you have a phone number that is ringing to your office but it's not the right phone number, you can update your Google My Business page to include that number so Google knows to associate it to your business. This could save you a ton of time.
One Last Tidbit
If you're killing it in map rankings of any kind, proceed with strong caution before fixing something that isn't broken. Your cleanup could undo whatever good you have going for you — and that would be bad.
So there you have it, a killer list of action items and advice that will help you clean up your online listings and keep future clients frustration-free.
Illustration ©iStockPhoto.com
Subscribe to Attorney at Work
Get really good ideas every day: Subscribe to the Daily Dispatch and Weekly Wrap (it's free). Follow us on Twitter @attnyatwork.