There are countless off-site search engine optimization tactics you can use to promote your website. But what about on-site tactics? Have you thought through your strategy for earning more relevant web traffic, identifying the tactics that are within your control? Have you done everything possible to give your website the best possible chance of pleasing Google?
Our team completed a study to better understand what specific on-site factors top-ranking law firm websites had in common. We performed searches in the largest 50 metro areas in the U.S. for the following practice areas: business, DUI, personal injury, and estate planning. Then we focused on the top-ranking site in the local map pack for each search term. After collecting over 200 top-ranking law firm websites, we analyzed what these sites were doing to see if we could figure out how they were outperforming the competition.
This post goes into detail on five of the 30-plus tactics we analyzed (to see the whole study, click here).
1. Get Your Location Straight
Ninety percent of top pages have their location in the title tag.
A title tag is the element that specifies the title of a webpage. Title tags are displayed on search engine results pages as the blue clickable headline. Title tags are important for conversions, SEO and user experience.
Being a law firm means you service specific locations. Sometimes searchers will include geo-modifiers in their searches and sometimes they won't. Even when they don't include them, Google can identify where they are located and show local results based on their location. When you include the location in your title tags, you show local relevancy and make sure Google knows what pages you want to show up for in that location.
So, if you serve multiple cities, create multiple pages targeting each city individually and include that location in the title tags.
If you aren't targeting your location, or are targeting too many locations in your title tag, you should quickly audit and adjust to take better advantage of this simple tactic. This is something you could improve on immediately.
2. Don't Wait to Be Responsive
Ninety percent of top pages were responsive designs.
Responsive design means your website will render well on any devices the user is using, whether that be desktop, laptop, tablet or mobile.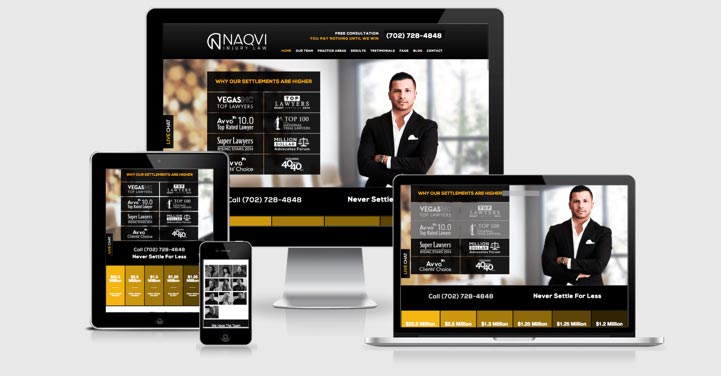 Back in 2015, Google announced that mobile searches had surpassed desktop searches, and the number of mobile searches conducted on a monthly basis continues to grow today. A little more than 51 percent of Google searches are mobile, 44.4 percent are on a desktop and 4.2 percent are on a tablet.
Additionally, Google has started rolling out its mobile-first index. This means Google uses the mobile version of your website as the starting point for their crawlers and is the foundation by which they will base rankings. Lack of a mobile-friendly site could hurt a site's ranking.
We found that 90 percent of top-ranking law firm websites were already taking advantage of responsive web design, putting them in a good position for the mobile-first index.
Make sure your site renders well on all devices because more and more of your potential clients are visiting you via their mobile device.
If your site is not mobile-friendly, upgrading to a responsive design that ensures your site renders well on all devices should become a top priority.
3. A Consistent NAP Is Crucial
We found that 86 percent of top landing pages have the firm's name, address and phone number (NAP) on the page, and 46 percent have the NAP info in the schema.
Your NAP is how both search engines and potential clients know where you are located. Having consistent NAP information off-site (on directories like Google My Business, Yelp, Lawyers.com and so forth) and on-site is crucial to your online visibility.
Making sure your office's geographic and contact information is correctly detailed on your site in schema markup is taking it to the next level. Basically, schema makes it simple for search engines to easily find and identify information quickly. Google defines schema as:
"A collaboration between Google, Microsoft and Yahoo to improve the web by creating a structured data markup schema supported by major search engines. On-page markup helps search engines understand the information on web pages and provide richer results."
So, if your office location appears only on your contact page, you want to quickly get it integrated into more landing pages. And make sure that NAP is marked up in schema.
4. Get Your Word Count Just Right
Top landing pages have a 945 average word count.
Have you ever wondered how long a page should be for Google's liking? This number has continuously evolved over the years. A while back it was 250 words. Today, people are producing pieces with over 5,000 words. If you do a quick Google search, you will find a number of opinions ranging from 1,000 to 5,000 words.
Of the 200 sites we looked at with top rankings in the legal industry, the average word count for these pages was close to 1,000 words. This doesn't mean you need to add fluff to your current landing pages to get the word count up. Rather, focus on answering potential clients' questions and provide as much value as possible. By doing this, you increase your chance of ranking for long tail words and phrases you hadn't even planned on and to show more authority in your field.
It is worth your time to go through the pages of your site to identify the ones that you want to compete in your market. Audit the amount of content you have on those pages, get the creative juices flowing and open the floodgates. More, relevant content can't hurt.
5. Check Your Speed
The average Google desktop speed score is 75, while the average Google speed for mobile is 62.
In January, Google announced that page speed will become a mobile ranking factor in their algorithm. The update is slated to go live in July.
In our study, we found that the average desktop user's score was 75 (out of 100) for desktop and 62 for mobile. Google doesn't specify at which point your site will be safe from the new update. They are saying it will only impact a small percentage of queries and only the pages that "deliver the slowest experience to users."
To check your page speed, you can use Google's page speed tool, which will also list things you can adjust to improve your score. A perfect 100 isn't going to happen, so don't set your expectations too high. There are too many factors at play to get a perfect score. Google understands that. A good rule of thumb is to make sure you get out of the red numbers. However, you don't want to sacrifice user experience just to obtain a better page speed score. Getting your score where you are comfortable with it will be based on personal preference.
Now What?
You now have five tactics to optimize your website's content and foundation:
Optimizing title tags with geo-modifiers.
Making your site mobile-friendly.
Utilizing NAP and schema.
Generating longer word counts on form pages.
Increasing page speed scores.
This is just the beginning. Look at the competitors in your specific market. What are or aren't they doing? What are they missing where you could get a leg up? Our study offers a baseline to start analyzing your competitors and help you know what to look for. Using these tactics now means benefitting from the better user experience and increased visibility it brings in the future.
Illustration ©iStockPhoto.com
You Might Also Like …
Subscribe to Attorney at Work
Get really good ideas every day: Subscribe to the Daily Dispatch and Weekly Wrap (it's free). Follow us on Twitter @attnyatwork.