This week we were invited to demo two new products aimed at alleviating some of the pain involved in two key areas of law practice: legal research and landing new clients. PacerPRO is a new online research service designed to make finding and managing federal case records a much more pleasant task. Avvo Ignite is a new suite of online tools aimed at helping lawyers more easily connect the dots between their marketing efforts and actually closing the deal with new clients. Fall has been a busy time for practice management software developers as well, with MyCase's acquisition, the debut of the much-anticipated Amicus Cloud, and Rocket Matter's announcement of IMAP email integration, coming this Monday.
PacerPro: Streamlined PACER Search and Management
PacerPRO, which launched in preview mode last Thursday, is a sleek new online service that gives subscribers the ability to search, retrieve and manage case records from all federal courts. Co-founded by attorney Gavin McGrane and tech industry veteran Paul G. Locklin, PacerPRO directly connects to the 750 million court records currently available on the Public Access to Electronic Court Records (PACER) system. Instead of wrestling with the idiosyncrasies of PACER, subscribers can easily search across multiple courts simultaneously to find a complete set of records, filter results to identify relevant cases and save past searches—making entire caseloads quickly searchable and shareable. Once documents are retrieved, cases can be bookmarked for easy access and PacerPRO automatically indexes the docket for quick and easy searches.
PacerPRO will be available at an introductory price of $25 per month (users must still pay PACER directly for searches). In addition to search and management features, PacerPRO is compiling its own archival database—now with more than 32,000 documents. Archive searches are free to subscribers and return results with simple, one-word or Boolean searches. PacerPRO's iPad app syncs with your PacerPRO account so that you can review research with or without an Internet connection. The iPad app subscription is $15 per month.
Avvo Ignite Marketing Suite
Whether you're relying on Yellow Pages and referrals or you're on board with the latest online marketing tools, it's too confusing—and time-consuming—to figure out what's really working in terms of marketing your practice. Lawyers need a little help (or a lot) figuring it out—what's more, they need help "converting" all those leads that their marketing is generating into qualified, paying clients. That's the premise behind the Avvo Ignite marketing suite. Billed as "a client conversion and website solution for attorneys," the new product promises to help you close more clients in less time and know exactly which marketing channels are producing qualified clients.
Avvo Ignite is available in two editions. "Avvo Ignite Starter" is aimed at attorneys who are just starting out with a marketing program. Avvo will build a website for you (including help with writing) and, for a monthly fee, supply site activity reports, listing submissions to directories and access to legal marketing experts. The "Avvo Ignite Suite" is a secure cloud-based "client conversion and tracking solution," built around a marketing intelligence dashboard that tracks marketing "channels" and campaigns. A dashboard also tracks the client intake process, from initial contact to hand-off to the responsible attorney. This is a killer feature considering how many leads and potential clients are lost due to inefficient intake systems. (Do you really know what happens when somebody calls your firm and where that information goes?) Plus, all data can be exported to a CRM system or address book, and potentially your practice management software. Monthly pricing, starting at $199, is based on how many things you wish to track. Avvo's team will help you select items appropriate for your particular practice, set up your dashboard and train you to use the system.
How does this all work in practice? This week, lawyer Lee Rosen took a closer look at Avvo Ignite in his review for Attorney at Work.
In Other Legal Product News …
Here are other product announcements that bubbled up these past few weeks.
This coming Monday, Rocket Matter is introducing IMAP email integration into its online law practice management software. The universally common IMAP protocol allows automatic population of email into legal matters stored in the system—meaning that instead of dragging and dropping emails, users can easily associate an email folder with a matter and automatically view and search a handy list of every relevant email attached to that matter from within Rocket Matter. This preview video shows how it works. Rocket Matter also released the latest in its series of small updates in October. The Bones edition includes revamped sidebar navigation and new icons designed to make it easier to move from page to page.
Gavel & Gown Software officially launched Amicus Cloud—aiming to set a new standard for web-based legal practice management. Amicus Cloud enables lawyers to do full practice management on any web browser, on devices from PCs to iPads. Plus, it offers complete integration with email—a huge step forward, says the company, that will allow greater mobility and flexibility in how lawyers work. All email, calendaring, contacts and tasks in native apps, smartphones and tablets are not only synchronized, but 100 percent integrated.
MyCase cloud-based practice management software was acquired by AppFolio, a Santa Barbara-based developer known for its property management products. MyCase's team will remain intact, led by Matt Spiegel. In the announcement, Spiegel stated this: "Our goal when we started MyCase was to build the best practice management platform for law firms and provide unmatched customer service. The entire team at AppFolio is completely aligned with our goals and vision for the company—we're very excited to work together and accelerate our growth."
In conjunction with its fourth anniversary this October, Clio added one of its most-requested features: custom fields. With custom fields, users of the cloud-based practice management platform can now track additional information relating to their matters and contacts. The custom fields support "typed data," meaning a user can specify that a custom field is a text field, a checkbox, date, currency, number, picklist or a contact or matter reference.
WestlawNext's Case Evaluator has a new mobile app for iPhones and Androids. Case Evaluator is a reporting tool that helps evaluate potential cases, devise negotiation and settlement strategies, and analyze verdict trends. The mobile version doesn't contain full Case Evaluator functionality, but you can view reports that show various case awards data, including awards by party, analysis of award amounts and awards data organized by selected criteria, and you can email PDF versions of Case Evaluator reports.
Catalyst Repository Systems has partnered with Equivio to offer predictive coding to work with Catalyst Insight. Combined, Equivio Zoom and Insight allow legal teams to identify relevant documents more quickly and efficiently, and at lower cost. Catalyst also announced a partnership with Index Engines to enhance its capability to manage legacy data repositories and support corporate information governance efforts.
Business Intelligence Associates, Inc. has updated TotalDiscovery's notifications features to include at-a-glance administrator reports. This is valuable to users who require a simple-to-read synopsis of their progress—such as how many employees have acknowledged legal hold notices, whether data has been securely gathered and other progress statistics.
What About Tablets?
For an update on the tablet computing scene, be sure to read Neil Squillante's TL NewsWire article, "A Special Report on Tablets in the Legal Industry: iPad, iPad mini, and Surface with Windows RT," and Droid Lawyer Jeff Taylor's follow-up, "Tablets and the Legal Industry: The Android and a Rebuttal" for a good grounding on the topic. TechnoLawyer's newsletters are subscription only, but the price is nice: Free when you earn points.
On the Paperless Front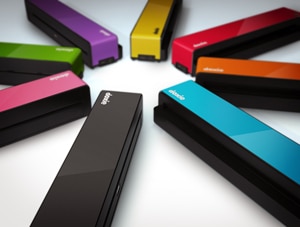 Finally, we're thinking 2013 is the year to (at last) go paperless, and I've got my eye on the brand-new Doxie One portable scanner, available at the end of November. It's about the size of an empty paper towel roll, syncs with the iPad (and mini) and sends your paper to Dropbox and Evernote. For $149 you get the Doxie One standalone paper scanner, Doxie 2.3 software with ABBYY OCR, a 2GB SD memory card and a worldwide power adapter. Doxie also offers a pricier wireless model, the Doxie Go, which, at $299, stores up to 600 pages.
Joan Feldman is Partner/Editorial at Attorney at Work. Follow her @joanhfeldman.