One marketing tactic that will help fuel your business development? Starting a podcast. Rewards await.
Your firm is probably nagging you to complete your marketing plan. Even if you can cobble it together soon, it could contain so many tactical bullet points that you won't know where to start. And so probably won't.
I want to make things simple for you so you get moving instead. As the old adage goes, "The universe rewards action." There is one marketing tactic that will help raise your profile, establish you as a thought leader, broaden your network, and fuel your business development better than any other — starting a podcast. Rewards await.
You Haven't Missed the Boat
If you've been considering starting a podcast but it seems too late, hold on. You haven't missed the boat. Not even close. Particularly in the legal services industry, where things move slowly, we're just getting started with podcasting. In fact, even across the broader economy, podcasting is still in its infancy — yet growing rapidly.
Spotify is a case in point. In its most recent earnings report, Spotify, which made a big bet on podcasting through acquisitions earlier this year, reported that its podcast audience has grown by over 50% since the last quarter, and doubled since the start of the year. Overall, it's estimated that podcast listening will grow to 132,000,000 people in the U.S. by the end of 2020.
If you want to become a thought leader you need to build a platform through which to share your ideas and expertise. A platform can be, among other things, a blog, an email newsletter or a webinar series. Ideally, your thought leadership platform will be multifaceted, allowing you to reach members of your target audience in ways that are aligned with their content consumption preferences.
Increasingly, people are expressing their preference to listen to thought leadership. Indeed, audio is the only form of content that can be consumed passively, such as in the car or on the treadmill. Given everyone's hectic schedules, the best way to connect is often when your audience is otherwise disconnected. Accordingly, a podcast should be part of your platform.
Here's more on why to put it on your 2020 marketing to-do list.
Five Reasons Lawyers Should Start a Podcast 
1. A Podcast Is Personal
I'm always extolling the virtues of written thought leadership, especially if it involves guest posting on platforms (like Attorney at Work) that are read and trusted by your target audience. However, the written word is simply not as resonant on an interpersonal level as audio. When someone hears your voice, your inflections, your sense of humor and your passion on a podcast, they form a deeper connection with you than they would by merely reading something you wrote. If you can deliver value through their earbuds every week, you can develop rapport. That's critical, because business development is still an intensely personal endeavor. The more directly you can connect with your audience through your thought leadership the better.
2. It Will Fuel Business Development
Podcasting gives lawyers the opportunity to reach new people and draw prospective clients within their spheres of influence. Podcasting creates awareness and builds trust, which are the precursors to business development. In this sense, having a podcast is a great marketing tool for a lawyer.
When you have a podcast, you have a platform that allows you to engage in interesting, mutually beneficial conversations with prospective clients. All you have to do is invite them on your show! Sure, it takes a bit of time to book and prepare for guest podcast interviews, but the payoff is worth it. Not only is the content often more engaging, but by giving an influential general counsel, investment banker, or other prospective client or referral source a platform to share their ideas, you have the chance to develop a connection that may otherwise have been out of reach. The opportunity to appear and shine on a podcast is an offer than many can't refuse.
3. You'll Improve Your Communication Skills
As with any skill, the only way to become more effective at communicating, such as through your writing, public speaking or conversations with clients, is to practice. With a podcast, you can't help but engage in the type of practice required to improve all aspects of your ability to connect and persuade. Your enhanced communication skills will not only improve your podcasting, they'll also spill over and make you better on the phone with clients, in the courtroom, the boardroom, and behind the microphone at public speaking events. Yes, you may hate hearing your own voice. But the feedback you'll derive from listening to yourself on your podcast will be invaluable.
4. You'll Save Time
I've written two books and hundreds of articles on legal marketing and business development topics over the past decade. In 2020, I started a podcast and to begin creating more audio content than written content. One reason for the shift is that, as attention spans dwindle and tastes change, I believe audio consumption will continue to rise. Another big reason is that it takes less time to create a podcast episode than it does an in-depth written article. If you're a busy lawyer who wants to create more thought leadership content, you can create one 30-minute podcast episode per week in one hour (assuming you outsource some aspects of production). Conversely, a typical fully fleshed-out blog post often takes at least fours hours to write.
5. You'll Enjoy the Process
What's not to like about building a platform that allows you to have interesting conversations with interesting people, particularly when a byproduct of such conversations is profitable new business? Some lawyers love writing thought leadership articles. As a writer, I get that. For everyone else (and for those of us whose writing is enhanced by having thoughtful conversations), there's podcasting.
Podcasting: It's Not as Complex as It May Seem
I know what some of you are thinking: This all sounds great, but I don't have the time or resources to start and run a podcast. Don't let fear of the unknown cause you to miss the podcasting wave. "Podcasting equals complexity" is a common misconception.
As I mentioned above, it can be less time-consuming than other marketing initiatives. It's relatively easy, and even fun.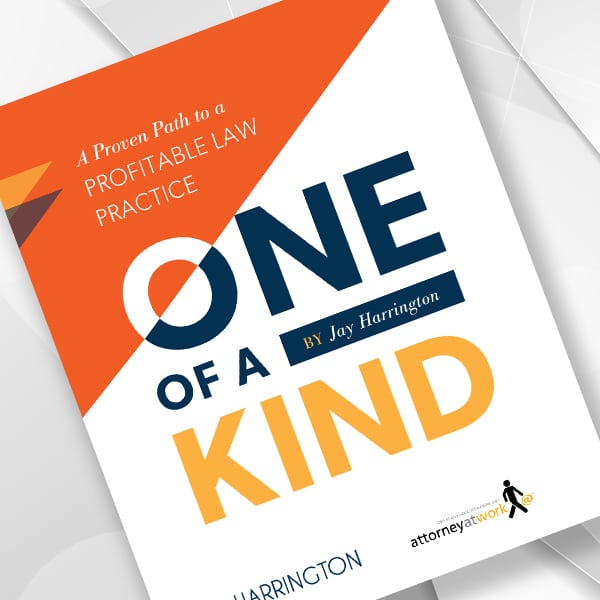 ONE OF A KIND
A Proven Path to a Profitable Law Practice
Almost every lawyer wants to command higher rates and attract more clients. But many are stuck pursuing ineffective strategies. Others don't even know where to start. In his popular book, lawyer-turned-legal marketer Jay Harrington lays out a path for building a one of a kind, profitable niche practice.