How can you get the most from Microsoft Office 365's new features? Curious about all the apps and add-ins popping up in the Office Store? For this edition of Tech Tips Friday, practice management technology experts Heidi Alexander, Tom Lambotte and Catherine Sanders Reach share their best productivity tips and favorite add-ins for working smarter in the cloud.
Heidi Alexander: New Ways to Collaborate with Office 365
Microsoft Office 365 is an excellent productivity tool for lawyers. Office 365 is much more than the familiar Outlook, Word, Excel and PowerPoint applications. New 365-specific apps — such as Planner, Flow, Delve and Sway — have unique potential for lawyers managing a practice. Recently, my organization moved to Office 365. Not only has this streamlined the administration of our systems, but it has also allowed us to collaborate in ways we had not before.
Here are a few of the Office 365 tools I've discovered that you might consider implementing in your practice:
Pin emails to your inbox with Outlook Web App. While I'm a huge fan of

Inbox Zero

, sometimes your inbox becomes a bit more bloated that you might like. When that happens, you'll want to be sure you don't lose track of the important messages that need to respond to ASAP. Rather than move those important emails to another folder, you can "Pin" them to the top of your inbox. Now, you'll see them each time you visit your inbox.
Email encryption. Office 365 offers an email encryption feature perfect for catching and sending sensitive data via email. By setting up rules to define certain conditions for encryption, you can automatically trigger encryption any time that condition is met. Your recipient can view the encrypted message by either getting a one-time passcode or signing in to a Microsoft or Office 365 account. Recipients can also send an encrypted reply (Office 365 subscription not required). 
Manage projects with Planner. Planner is a new streamlined project management tool that allows you to collaborate with others on projects. With Planner's organizational features, you can create different stages or topics of a project and insert tasks. Tasks appear as "cards," similar to tools such as

Trello

based on the

Kaban visual process-management methodology

. You can assign tasks to and communicate with team members, attach documents from Office 365, and track project progress. If you use Office 365 and often work collaboratively with others in your office, this application has strong productivity potential and is worth a try.

Heidi Alexander (@HeidiAlexander) is Director of the Massachusetts Law Office Management Assistance Program, where she advises lawyers on practice management matters, provides guidance in implementing new law office technologies and helps lawyers develop healthy and sustainable practices. She frequently makes presentations to the legal community and contributes to publications on law practice management and technology. She is the author of "Evernote as a Law Practice Tool" (ABA Law Practice Division).
Catherine Sanders Reach: Productivity Gems
Office 365 provides an amazing amount of value for the price. For $12.50 per user per month (annual commitment), the Business Premium plan offers the equivalent of three server products (Skype for Business, Exchange, and SharePoint), a file server (OneDrive for Business), and five installs of the Microsoft Office suite of products for any device and any operating system.
Plus, there are few little gems that really aid in productivity, so let's explore:
FindTime is an Outlook add-in from the Office Store that builds in the functionality of tools like Doodle or Meeting Wizard. You've never heard of Doodle or Meeting Wizard? These tools help make short work of finding an appropriate meeting time for multiple people. Within the same MS Exchange environment, each user can see other users' calendars and use the scheduling assistant to make a guess at the best time for all to meet. However, arranging a meeting for multiple people outside of a single MS Exchange environment often results in rounds of frustrating emails. A number of free tools came out on the market to solve this problem by letting the event organizer create a poll for others to select their availability and find a mutually agreeable date/time. That is what FindTime does — but built into the user's MS Outlook calendar.
When you create a new event, you see a button called "FindTime." Click on it to propose a few times for attendees to vote on. It is just that simple. 
The attendees then receive an email with instructions to choose a time, by clicking a link and clicking on their availability, and the responses are tallied for you, the sender, in your calendar. Are the slackers not responding? Send a reminder with one click!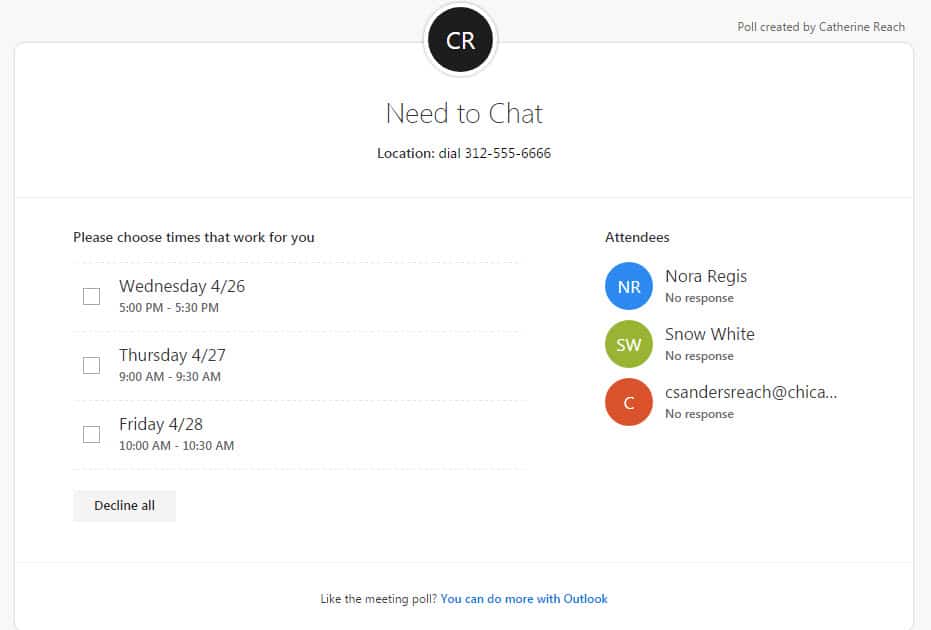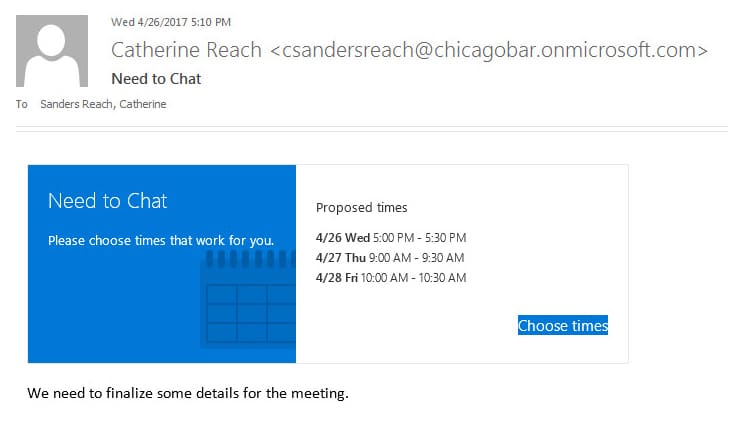 Bookings is currently only available to customers with Office 365 Business Premium plans. Bookings is a way for firms to provide a way for clients to schedule appointments through an online calendar. This model has been used by many other businesses, including consultants, dental offices, and financial service providers. Bookings allow your clients to book appointments with you via your website, blog, social media page, or mobile apps. Clients (and staff) can easily book appointments, reschedule or cancel, send email or text notifications, and more. Bookings displays bookings for each lawyer in the firm, and far more.
Flow is another productivity booster for Office 365. Flow appears in the list with all the other Office 365 apps, which includes the standard Office suite, plus Yammer, Planner, Teams, Delve, Newsfeeds, and more. Flow is very much like automation tools IFTTT and Zapier, basically giving you a way to connect two different applications to transfer information or add some sort of action based on a trigger. Like Zapier and IFTTT, Flow provides some templates to help users see what is possible. Flows in Office 365 tend to connect Office 365 apps to other Office 365 apps. For instance, pick the template "Copy important emails to OneNote" and then go into My Flows—Manage and click on the Flow to customize it. Customization can be multistep and very sophisticated. Flow also connects Office 365 apps to popular social media sites, the Google suite of apps, Basecamp, Asana, Buffer, and dozens more.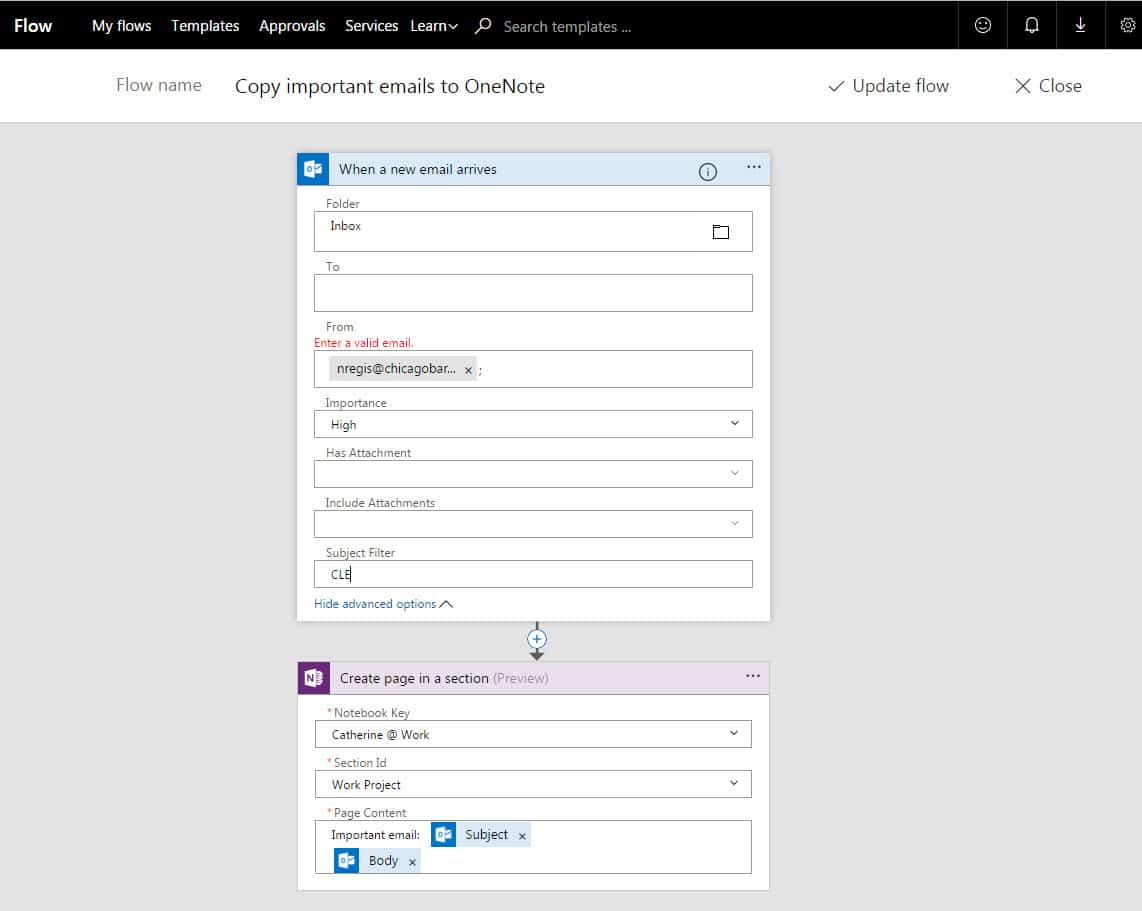 Office 365 Groups are very neat collaboration portals you can set up in a flash. By going into People and creating a Group, users can create instant portals for teams of people inside and outside the firm. Creating a Group creates a shared OneNote notebook, a threaded discussion list, a shared document library, a shared calendar, a shared Planner for project management, and a SharePoint site. For those who are intrepid enough, going to the SharePoint site can open up a whole world of additional enhancements. Connectors is a recent addition to extend functionality in Groups. Connectors are like Flow, except just for Groups. After setting up a new Group, you click on "Connectors" to add content from other services, including RSS feeds, social media sites, project management tools, CRM systems, and more. Any time any of those services is updated the group gets an email notification. This is useful if a group is using collaboration tools outside of the ones in Office 365. Don't see a service that you want to integrate? Build your own with the Connectors Developer Dashboard!
Catherine Sanders Reach (@CatherineReach) is Director, Law Practice Management and Technology, for the Chicago Bar Association. She was previously Director of the American Bar Association's Legal Technology Resource Center for over 10 years.
Tom Lambotte: Two Useful Outlook Plug-ins for Mac Lawyers
Lately, the Mac OS has been receiving lots of love from Microsoft. In March 2016, Microsoft added support for add-ins in Outlook for Mac. Add-ins are basically extensions that add more functionality and tie to a variety of external systems.  Although plug-ins for Outlook have long existed for Windows users, they have never been on the Mac. This is an exciting development for Mac users. To access plug-ins, simply click on the Office Store icon on the Outlook ribbon (once you have updated your software).
Here are two of the most useful plug-ins for lawyers:
Rocket Matter. One piece of Rocket Matter's recently released and extensive 365 integration is its Outlook plug-in. It lets you associate emails with matters directly, add billable time, and upload attachments from within Outlook. The lawyers I work with have wanted streamlined solutions for doing these tasks within email for years.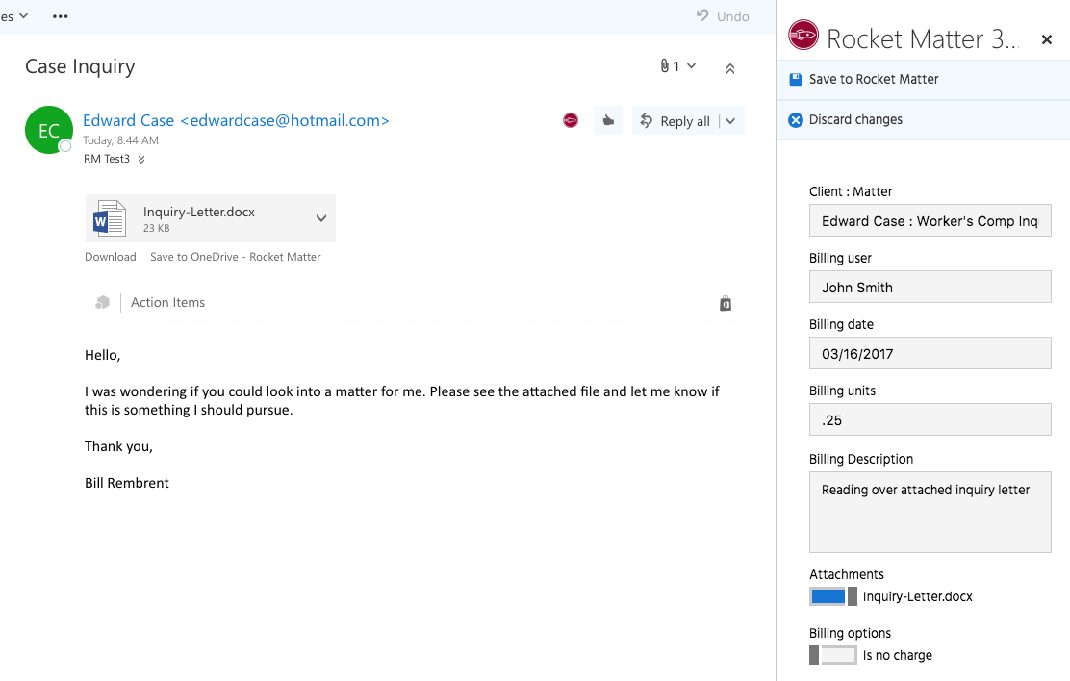 Boomerang. This free app has never captured a large amount of Mac users due to its lack of integration with Outlook for Mac, but it has been around a long time and is well-known by Windows users. I use SaneBox and Boomerang and think they complement each other.
Boomerang's biggest feature (that SaneBox lacks) is the ability to send things later. This lets you write an email and schedule when you would like the email to actually go out. This can be very handy if you are working a late evening or odd hours and would prefer the receiving party to not be privy to that. With this plug-in, you simply click on Send Later and choose from the selected list of options or choose Custom to get as specific as you like. Once set, leave the email in your drafts and it'll go out at the time you selected. You do not need to have your computer on, as this plug-in works server-side.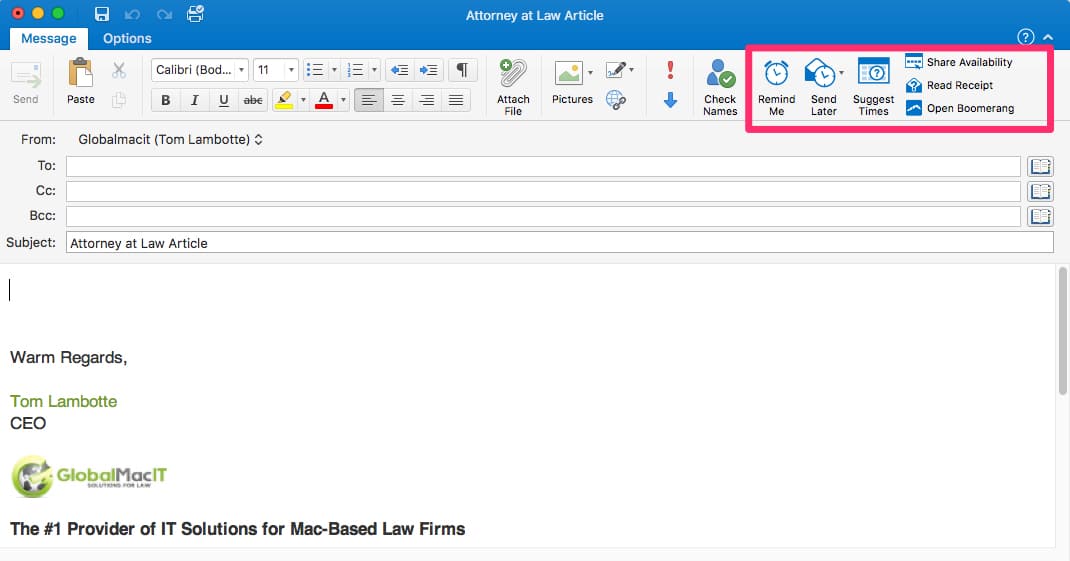 I am excited to see what other plug-ins make it into the Outlook for Mac add-in store.
Illustration ©iStockPhoto.com
Subscribe to Attorney at Work
Get really good ideas every day: Subscribe to the Daily Dispatch and Weekly Wrap (it's free). Follow us on Twitter @attnyatwork.