As lawyers, we're all busy. Some of us, however, seem able to accomplish more than others. How is that? Effective time management! Recently, I interviewed Albert Chang, Diane Costigan, Alan Howard, Thomas Ozimkoski and Vanessa Price about their secrets to successfully managing their busy lives, and I came away with some valuable insights and tips. Here are five of my favorites.
1. Plan everything and put it on the calendar. Plan on a yearly, weekly, daily and by-project basis. Keep one calendar with everything on it — work deadlines and appointments, family obligations and personal items (like exercise) — and sync it to all devices. Then follow the calendar. Review it each day. When things don't go the way you planned, recalibrate.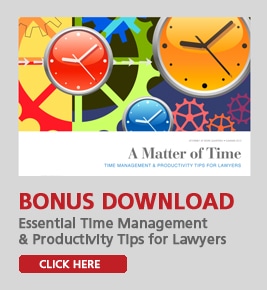 2. "Chunk" your work into manageable timeframes and take breaks in between. It's easier to keep focused in smaller "chunks" of time, so try to work in 45- to 90-minute increments. Then take a break or switch to something else. If you must keep working, switch to a separate project or to a new task within the same project — for example, you might switch from writing a brief to reviewing documents or responding to client email. If you can take a short break, go for a walk, do five minutes of stretching or engage in a meditation mini-session. When you have a longer break, try exercise for rejuvenation and increased focus.
3. Use your time creatively and multitask wisely. Find snippets of "extra" time. An early weekend morning before the family wakes up, or in the evening after everyone else goes to bed, can provide more time for work or personal tasks. If you have more control over your schedule, you can work hours that work for you. For example, try not working once the kids get home from school, until after they go to bed, and then heading into your home office to put in late evening hours. Also get creative with multitasking. Despite research on the negative impact of multitasking on productivity, you can multitask wisely by combining an intellectual task with a mindless task. For example, dictate a blog post, presentation or email response using Dragon Dictation on your smartphone while walking to work (then convert it to text and email it to yourself). Or dictate a to-do list and client updates into a small digital recorder while driving between court appearances.
4. Use technology, except when you shouldn't. Use your smartphone, tablet, laptop and whatever other great technology you have to keep up to the minute with important communications and relevant business news, to create a paperless office, and to work on the go wherever you are. But remember that sometimes "old school" can be more efficient — for example, reading the paper (meaning the actual paper) can be more efficient than reading it on your iPad because you may be able to scan headlines and stories more quickly.
5. Surround yourself with supportive people. People do not succeed alone. They receive help from a spouse or partner or friends, and from colleagues and support staff. The people who are most supportive are those who can anticipate issues and handle them independently. So ask them for help, and then let them help you.
You can read the full "Time Management Secrets" interviews with Albert, Diane, Alan, Tom and Vanessa in Attorney at Work's "Matter of Time" e-zine — and get more of their tips on managing success, lifestyle, family and stress — here.
Jamie Spannhake is a lawyer, certified health coach and blogger. After working for a large Manhattan law firm for six years as a commercial litigator, she founded her own practice serving clients in New York and Connecticut. She focuses on wills, residential real estate, and business transactions, and provides legal research and writing services for other lawyers. As a health coach, she helps individuals — mostly lawyers — achieve a healthy balance in their lives. 
Illustration ©iStockPhoto.com