"Thought leader" is a moniker the market should assign to those who earn it, not something that should be self-proclaimed. The best thought leaders, like the best business leaders, have a clear point of view and are selfless. They share their ideas and insights because they feel compelled to do so. Their desire to make an impact and foster change results in them casting a vision that others follow. A delightful consequence of creating and publishing thought leadership is that it often redounds to the benefit of the thought leader in the form of new business.
Thought leadership is the most effective form of marketing for lawyers because it allows lawyers to position themselves as narrowly focused experts to those searching for legal solutions. By sharing their ideas, lawyers enable themselves to be discovered by their target audiences and to build trust. Over time, continued awareness and trust create new business opportunities. A well-positioned lawyer who consistently publishes thought leadership will generate more and better opportunities over time because their expertise will be perceived as more valuable and unique, and therefore, more irreplaceable.
The Big Difference Between Content Marketing and Thought Leadership Marketing
Most law firms engage in various forms of content marketing. Fewer actually practice true thought leadership marketing, however. The qualitative difference between the two is significant, as is the quantitative impact on a law firm's bottom line. Content may generate clicks but thought leadership establishes expertise, deepens relationships, and leads to new business. It expresses a unique point of view. Thought leadership has a permanence to it; content marketing is transactional and fleeting.
My strongly held beliefs about thought leadership marketing for lawyers are based on a decade's worth of experience. As a lawyer myself, I don't fault you for wanting more objective evidence. So here goes. What follows are seven statistics that speak to the importance of thought leadership. The studies cited include:
While not all of the research was focused exclusively on legal services, it stands to reason that the behaviors and opinions of other buyers of sophisticated B2B services translate to legal.
Statistics Show a Disconnect — and an Opportunity for Lawyers
The most important finding is that potential thought leaders significantly underestimate the impact of thought leadership content, compared with feedback gathered from buyers of such services. Buyers want more and better thought leadership, and they're basing buying decisions on what they're consuming. Service providers, however, don't think their content has much potential to generate demand or drive results. As a result, there is a big opportunity for lawyers willing to put the work in to become thought leaders.  
1. 55% of decision-makers say they use thought leadership content as an important way to vet business. 
The Edelman-LinkedIn study surveyed 1,200 U.S. business decision-makers, content creators, and salespeople to better understand how each group perceived the value of thought leadership for their business or the businesses they buy from.
Among the findings: A clear majority of business decision-makers use thought leadership to winnow down their options when searching for solutions. Not only are they attracted to thought leaders, but they are also eliminating businesses that don't have a strong thought leadership presence. These findings comport with my own observations of buyer behavior, as requests for proposals being sent to law firms increasingly demand examples of a firm's thought leadership.
2. 50% of decision-makers spend at least one hour per week consuming thought leadership content.
According to the Edelman-LinkedIn study, and contrary to conventional wisdom, decision-makers are consuming significant amounts of thought leadership content. But there is less tolerance for run-of-the-mill, low- or even average-quality content.
3. 47% of C-suite executives say they will share their personal contact information with sellers after reading quality thought leadership from the brand.
Thought leadership is not only a form of marketing, but it's also an integral component of business development. This statistic proves that decision-makers are more apt to engage in a relationship with individuals and brands that add value and articulate a vision for the future. However, content creators underestimate the impact of thought leadership on business development. In fact, only 39% of sellers and content creators think their thought leadership helps with lead generation. There's a mismatch of expectations and preferences between buyers and sellers that may explain the abundance of content but a dearth of real thought leadership.
4. 58% of decision-makers say they choose a business based on its thought leadership.
The business development process involves generating awareness, building trust, and overcoming objections. For sophisticated legal work, a great deal of trust must be established before a client commits to a lawyer. There's a due diligence process involved, and buyers are conducting that diligence online by consuming the thought leadership of the lawyers under consideration.
In other words, this is not merely a top-of-the-funnel activity to generate awareness. It's also critical at the bottom of the funnel — at the point of where the buyer makes the decision itself. Contrast the fact that 58% of buyers are using thought leadership as a focal point of their decision-making with the finding that only 26% of sellers believe thought leadership is directly responsible for closing business. There again is that disconnect between potential thought leaders and their audiences, regarding the efficacy of thought leadership content during the sales process.
5. 61% of decision-makers say they are more willing to pay premium prices to work with a brand that articulates a clear vision through thought leadership.
This statistic should shift the viewpoint of any lawyer who is on the fence about the value of thought leadership. It should come as no surprise because it is the manifestation of a lawyer's expertise. If a buyer perceives a lawyer as one among many, the buyer will opt for the lowest-cost option. If someone stands out as an expert, however, there is a reason to pay more. The more important the desired result, the more the client is willing to pay. In other words, when it comes to procuring sophisticated legal services, clients are looking for an outcome, not a bargain.
As you might guess, there's another mismatch to be exploited here. Only 14% of sellers believe that thought leadership allows them to charge more than their competitors who produce lower-quality or no thought leadership.
6. Buyers get 57% of the way through the buying process before making contact.
According to Gartner's research, buyers of sophisticated services are more than halfway through a buying decision before inviting a service provider into the conversation. This demonstrates that clients — who have access to more information than ever — are firmly in control of the buying process from start to finish. Lawyers are often unaware they are under consideration for new engagements because more of the vetting of their services is happening online. Assessments are being made well before a lawyer gets the opportunity to "win it in the room." To get in the room in the first place, a lawyer must make a really strong impression in the digital domain, where clients are doing their due diligence.
How do you compete when you don't even know you're under consideration? The most effective way is by sharing more ideas in the public domain to attract ideal clients. Your thought leadership will remain omnipresent in the realm of ideas, even if you can't always be there in the room with an unknown prospect to demonstrate your expertise yourself.
7. 76% of legal marketers cite "getting attorneys to produce content" as their No. 1  content marketing challenge.
Despite all the evidence to the contrary cited above, it's clear from this statistic that lawyers are undervaluing the potential impact of thought leadership marketing. If more understood its value, in-house legal marketers would be less challenged in procuring high-quality content from their firm's thought leaders. This may explain the fact that, according to the Edelman-LinkedIn study, decision-makers rate only 18% of content they consume as "excellent or very good." In summarizing its findings, the study's authors concluded that content producers "are not investing in doing it well and developing processes to measure its ROI."
The Thought Leadership Arbitrage Opportunity
Before we wrap, here's one more statistic to consider. For most law firm partners, credit for the origination of new business can account for 50% or more of total compensation. In light of buyers expressing a strong preference for more thought-leadership content, it only makes sense to focus more on this essential form of marketing and business development. For associates, a bit more thought leadership marketing would undoubtedly better position you to make partner.
For all lawyers, you can't be everywhere all at once, so start letting your thought leadership speak for you.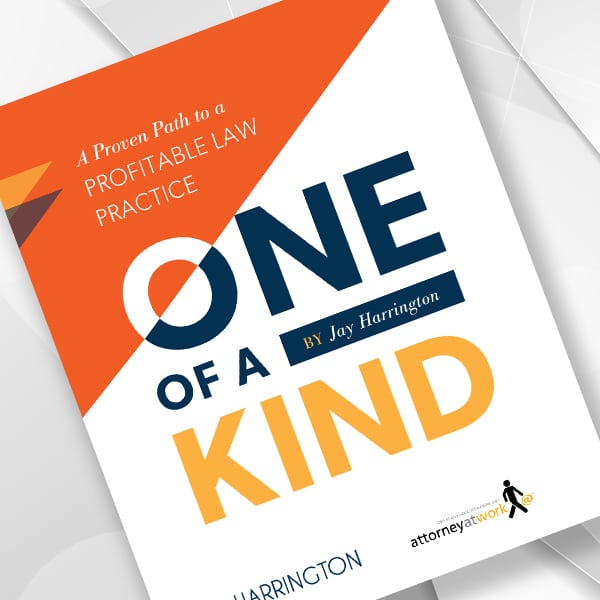 ONE OF A KIND
A Proven Path to a Profitable Law Practice
Almost every lawyer wants to command higher rates and attract more clients. But many are stuck pursuing ineffective strategies. Others don't even know where to start. In his popular book, lawyer-turned-legal marketer Jay Harrington lays out a path for building a one of a kind, profitable niche practice.