Today, prospects are less inclined to be schmoozed. Collaborative thought leadership can be a valuable form of business development for lawyers.
In the classic film "Glengarry Glen Ross," Alec Baldwin's character Blake is a sales trainer brought in to motivate some underperforming real estate salesmen. He implores them to follow his "ABC" mantra — that is, "Always Be Closing."
To always be closing means taking an aggressive and relentless approach to sales. The objective is to close, without regard to whether the transaction addresses an actual buyer need. It's about moving fast and applying pressure. But it's a classic recipe for buyer's remorse.
And, of course, it's a terrible approach for selling legal services. In 2020, that's pretty obvious to all of us. Less clear: What's the best alternative?
First, Some Business Development Principles
Before we get to the punchline, let's establish a few principles about legal business development. By understanding the behaviors, mindsets and preferences of legal services buyers, we can develop a principles-based framework for selling that appeals to those we seek to serve. Here are a few principles to keep in mind:
Clients won't consider you if they're not aware of you (thus the need for marketing), and even after they become aware of you, they won't hire you until and unless they trust you. The more high-stakes the engagement, the more trust is required.
No matter how sparkling your personality may be, charisma alone doesn't engender trust. Because of the high stakes involved, clients want to make sure they're dealing with an expert.
We now live in a world of information parity, not asymmetry. Clients have access to more information than ever, which means they're out in the digital domain searching for expertise to winnow down their options.
Lawyers rarely know if or when people are evaluating them and, as a result, they need to enlist "agents" (people and work product) to work on their behalf and showcase their expertise. These agents include past results, referral sources (satisfied clients), reviews, and thought leadership content that highlights the lawyer's ideas and insight.
All of this tells us that thought leadership marketing is more important than ever. However, it is not just publishing thought leadership that is valuable. The act of creating thought leadership itself can be one of the most valuable forms of marketing and business development for lawyers.
The Golden Opportunity of Collaborative Thought Leadership Marketing
Writing is the most common form of thought leadership marketing engaged in by lawyers, but it can be a lonely endeavor. Thus, it is often assumed, thought leadership lies at the opposite end of the marketing continuum from face-to-face networking in terms of the opportunity to interact with others. But who said thought leadership needs to be a solitary exercise? One of the biggest and best opportunities that thought leadership offers is the prospect of collaboratively creating content with those you hope to serve.
In today's fast-paced, noisy and distracted world, it's hard to get someone's attention for a mere moment — let alone get 15 minutes of their time to listen to you describe your services. Have you invited a prospect to lunch lately? Or to a ballgame? Or out for drinks after work? Despite those tactics being cornerstones of the old way of doing business development, today, busy executives, entrepreneurs and other professionals are starved for time. They are less inclined to accept invitations to be schmoozed. Saying yes to your invitation means saying no to spending time with family, friends or on self-care.
Who has time for lunch with a lawyer these days? Or a better question, do you have time for lunch?
Instead, why not kill two birds with one stone and invite a client or prospective client to collaborate on a thought leadership project? By doing so, your invitation doesn't come across as one-sided and transactional, but rather mutually beneficial. You're not pitching them to close them. You're offering them something of value — the opportunity to position themself as a thought leader — and building trust as a result, even if they decline your invitation.
If they say yes, not only will you look good, but more importantly, they'll get an up-close-and-personal look at what it's like to work with you on a matter of substance (as opposed to merely seeing you shank another 4-iron into the trees).
It's OK — indeed, advisable — to follow the "ABC" approach to business development … as long as you're adhering to the mantra of "Always Be Collaborating."
Ways to Collaborate With Your Clients
 Every form of thought leadership creation presents opportunities for collaboration. A few examples include:
Podcasting. When you have a podcast, you have a platform for engaging in interesting conversations with prospective clients. All you have to do is invite them on your show! By giving an influential general counsel, investment banker, or other potential client or referral source a platform to share their ideas, you have the chance to collaborate and develop a connection that may otherwise have been out of reach. And that very well may lead to new business.
Writing articles. What in-house counsel wouldn't appreciate the opportunity to have their byline appear on an article co-authored for a well-respected media or industry association publication? If you're a subject-matter expert with a focus on a particular industry vertical, you should have no problem finding prospective client co-authors to collaborate on content, and outlets eager to publish it.
Panels. Instead of merely attending industry conferences with the intention to network, have a bit more forethought and identify opportunities to speak at events. Once you've scoped out a few possibilities, invite one or more clients or prospects to join you in a proposal to be part of a panel discussion.
Webinars, a video series, a co-branded original research project … a multitude of ways exist to collaborate with those you seek to serve. Thought leadership marketing is better together.
Consider Collaborating With Competitors
Before we wrap up, here's an unconventional idea to consider: Collaborate on thought leadership content with your competitors.
Why not share the stage (or the page) with other experts in your field if you'll look better — and form better relationships — than if you try to go it alone? Across almost every profession — from CEOs gathering at The Aspen Institute to elite athletes training together in the off-season — competitors gather to share ideas and push one another to improve.
For example, in the 1970s, directors Francis Ford Coppola, Martin Scorsese, Steven Spielberg, George Lucas and Brian De Palma (known as the "Movie Brats") took Hollywood by storm. They competed with one another, obviously, but also collaborated, shared resources, gave critical feedback and formed friendships. They transformed an industry because of, not despite, one another.
Too many lawyers have scarcity mindsets when it comes to marketing and business development. They are aghast at the idea of enlisting competitors into any opportunity that could provide mutual benefit. But this is shortsighted. A scarcity mindset is marked by the limiting belief that if you help someone else win, you won't win yourself. An abundance mindset recognizes that if you lift someone else, they'll pull you along with them.
If referrals and recommendations are essential to new business development, why not form great relationships with competitors at the top of their game? Do it with those in a position to actually come across referable business. One way to build such relationships is to collaborate on thought leadership projects.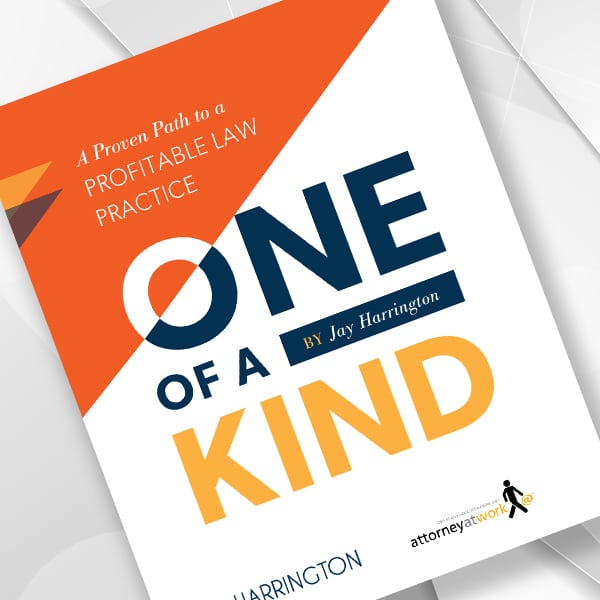 ONE OF A KIND
A Proven Path to a Profitable Law Practice
Almost every lawyer wants to command higher rates and attract more clients. But many are stuck pursuing ineffective strategies. Others don't even know where to start. In his popular book, lawyer-turned-legal marketer Jay Harrington lays out a path for building a one of a kind, profitable niche practice.