How is your law firm weathering the storm that is this pandemic — holding on for dear life or seeing it as an unprecedented opportunity? What you do now could set the stage for your firm's future success or demise. Now is the time to devote more time and energy to your content marketing strategy, and a great way to start is by reading "Corona Marketing: What Marketing Professionals Need to Do Now to Survive the Crisis" by Joe Pulizzi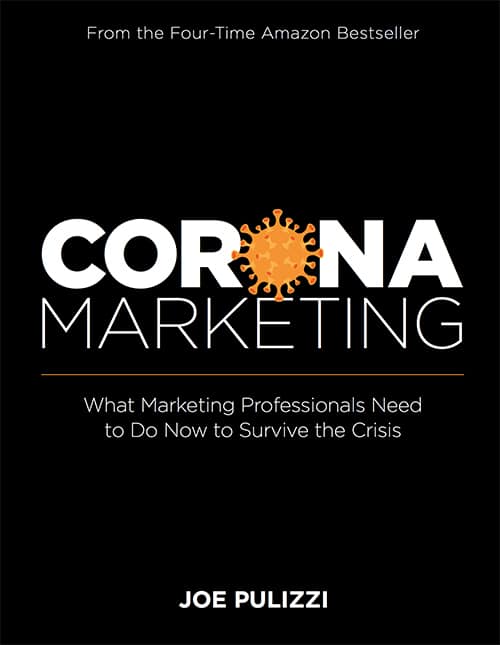 A quick read at 45 pages, this e-book suggests the 13 steps "you need to take now to position yourself for success during this great pause," because "now is the time when the greatest businesses of the next decade will be built. Now is the time when the most innovative companies take market share from those who are just holding on."
Marketing Is Not an Afterthought
One of the most valuable reminders I received from this book is marketing is not an afterthought when running a business. It's not a set-it-and-forget-it activity. It takes ongoing, dedicated and thoughtful work.
When considering your business strategy, it's best to look at marketing as a marathon. It's all about building an audience and regularly providing them with value.
Start With Your Content Marketing Mission Statement
The COVID-19 pandemic has provided the opportunity to reevaluate your marketing goals, or perhaps consider them for the first time. If content marketing is your strategy, start by creating an editorial mission statement that guides your content creation efforts.
When it comes to your content marketing mission statement, simplicity is key. This mission statement should answer the questions of who is your core audience, what you are going to deliver to them, and how they will be better because of your content.
Simple does not necessarily mean easy. Invest the time necessary to craft a content marketing mission statement that reflects your firm. It may take a few days. At its core, your mission statement should answer the question, "Why do we exist?" Take time to make sure that you're delivering the information your target audience needs or wants.
Play the Corona Marketing Long Game
Marketing is not a get-rich-quick endeavor, especially content marketing, and especially during a pandemic where some people are struggling to provide for their basic needs. Focus on your audience's needs rather than selling or converting them at this time. "An amazing amount of goodwill can be created by brands during times of crisis."
People may not be able to buy legal services right now, but you can position yourself to be their first call when they have the budget for them again.
Niche Till It Hurts
When developing your content marketing strategy, think small. The more niche the audience, the better targeted your content can be. Additionally, it's better to do one thing well instead of multiple things poorly. So instead of focusing on every type of content or every social media platform, focus on one type of content and one distribution platform (i.e., blog, podcast or video series).
During an economic crisis, it's best to focus on a smaller, more profitable audience group. These are the people you can serve now who will buy (and refer) later. "Make a strategic decision to be in the places where you can serve your audience faithfully and at the same time help your business."
Differentiate to Win
While differentiation is not common in the legal industry, it's imperative when it comes to your content marketing. You need to create content that differentiates you from the crowd. It should position you to be the leading informational resource in your niche.
Be relevant. Be valuable. Be different. Being different is what will get you noticed by your audience.
What Is the Risk If You Fail?
This is one of the best questions Pulizzi asks in "Corona Marketing." One of my fears is investing time and energy in a venture and then dealing with failure if it doesn't work out the way I hoped. But merely going through the exercise of crafting a content marketing mission statement and, accordingly, consistently creating content are valuable exercises in and of themselves. You practice creating content and learn how your audience responds to what you created.
It's difficult to get lawyers to do anything that doesn't contribute to their billable hours. Content marketing is one way to keep the cogs of the law firm machine spinning during this challenging time, and it will set you up for future success. (I still get emails from prospective clients who recently found me because of a blog post or video I created years ago.)
Even More Corona Content
I've only scratched the surface of the plethora of information that's packed into this short book. Visit Joe Pulizzi's website to download a free copy. And if you want a deeper exploration of these concepts and how to create an effective content marketing strategy, I highly recommend Pulizzi's full-length best-selling book, "Content, Inc." I recently read it and have 10 pages of notes that I'm using to create my content marketing strategy in addition to the lessons learned from "Corona Marketing."
Image ©imagezoo.com
Also on Attorney at Work …
Subscribe to Attorney at Work
Get really good ideas every day for your law practice: Subscribe to the Daily Dispatch (it's free). Follow us on Twitter @attnyatwork.