A lawyer's style should never suffer, so we asked menswear aficionado Raphael Schneider for advice on how to look good on Zoom.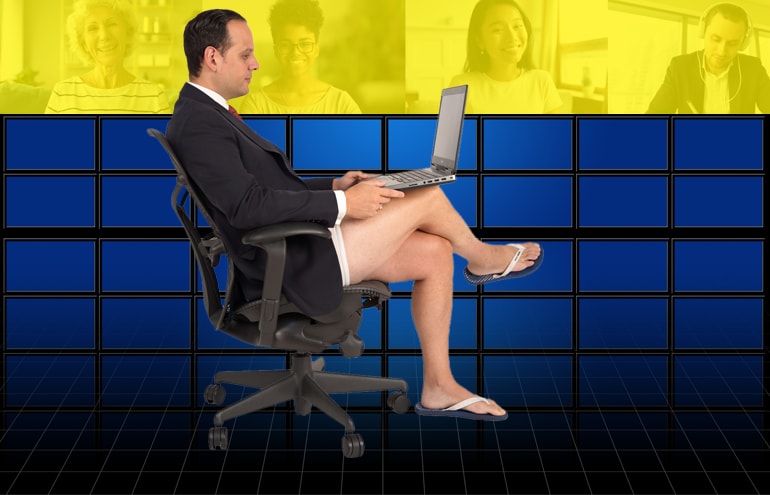 Sven Raphael Schneider, the founder of the hugely popular Gentleman's Gazette blog, is a true menswear aficionado. Since lockdown shouldn't mean your style has to suffer, we asked him for his advice on how to look good on Zoom. Lucky us, he's agreed to share his dress code for men on camera.
Ah, Zoom. Love it or hate it, business is being conducted on this virtual meeting platform. Even though personal spaces have become our offices, one thing hasn't changed: the perennial question about what to wear to work as a lawyer.
In an office setting, the answer was a bit easier to interpret in the form of dress codes and observations of what your colleagues and supervisors were wearing. Without the distinction between office and home and the visual cues of the office, it has become harder to decide what to wear. Can I select something more casual? Is a tie still necessary? Do I need a jacket, suit or blazer?
King of My Castle?
Your private home is the domain in which you have the sole authority to decide what you wear, which naturally makes it the most relaxed place to be. Dressing up at home seems somehow … wrong.
The fact is, in a white-collar or professional business environment, your work has merely relocated. It hasn't changed in terms of its seriousness and importance. Clients and managers know and understand that life is now in direct overlap — and conflict — with work, and this new situation should call for some changes to the dress code while retaining a professional air.
Your Clothes Still Matter
Clothing and attire still play a strong role in making impressions on others, whether we like it or not. Dressing more formally is more likely to give the impression that you take work seriously and respect your position and those around you. Dressing down, even when you're at home, can have risks. If formality still dominates your office culture, then we recommend sticking with it, even at home.
Four Guiding Principles for Managing the "What to Wear" Question
1. Get Dressed for the "Office" Every Day
For many men, getting dressed helps make the mental shift from home to work, so even at home consider maintaining this step in your routine. Furthermore, it won't leave you scrambling for a clean shirt when a meeting pops up. Pick a baseline, such as a pressed dress shirt and trousers, that would have been acceptable at your office, and use that as a starting point.
2. Keep Your Approach Situational
For meetings with clients and superiors, match the clothing style that was expected of you in the office.
For a white-collar office, stick with traditional single-breasted business suits in navy blue and charcoal with matching pants, a silk or grenadine tie, and solid or subtly patterned dress shirts.
For peer-to-peer meetings, you can relax a little and skip the tie and the jacket. If you tend to get invited to spur-of-the-moment meetings, then we suggest wearing a long-sleeve dress shirt and slacks while having a jacket at the ready.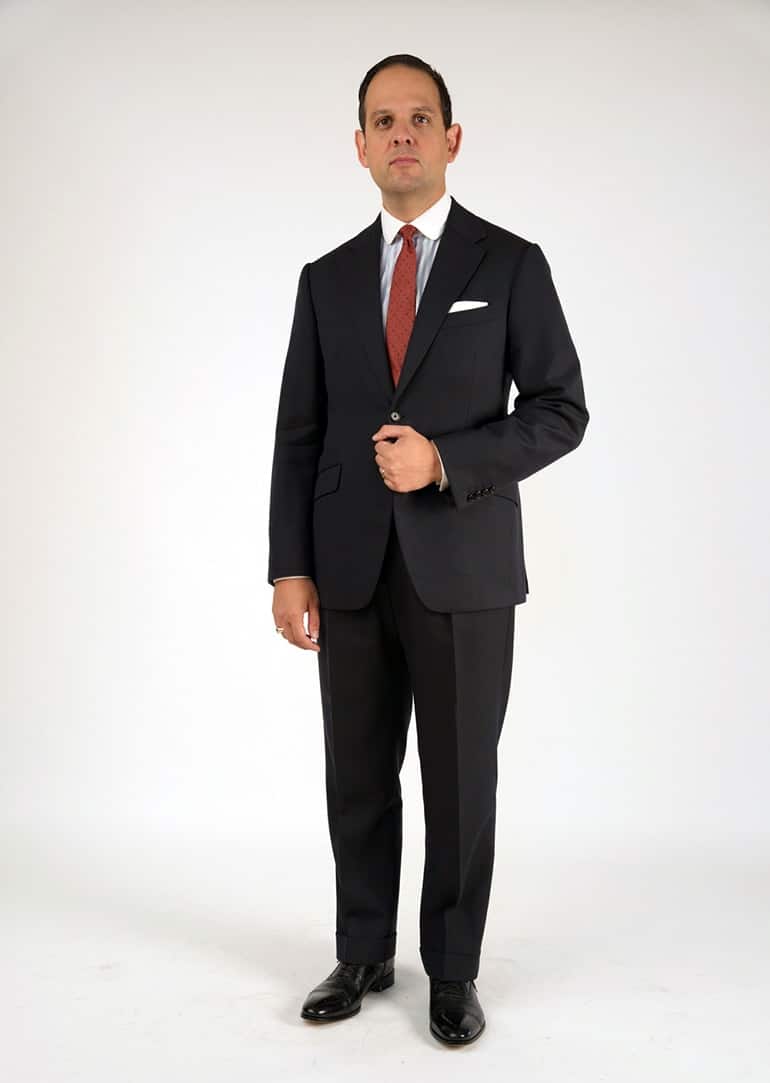 3. Wear Pants
It may be a joke for some, but to be clear, you should wear pants. You never know when you will need to get up on camera, and it's better not to make a spectacle of yourself.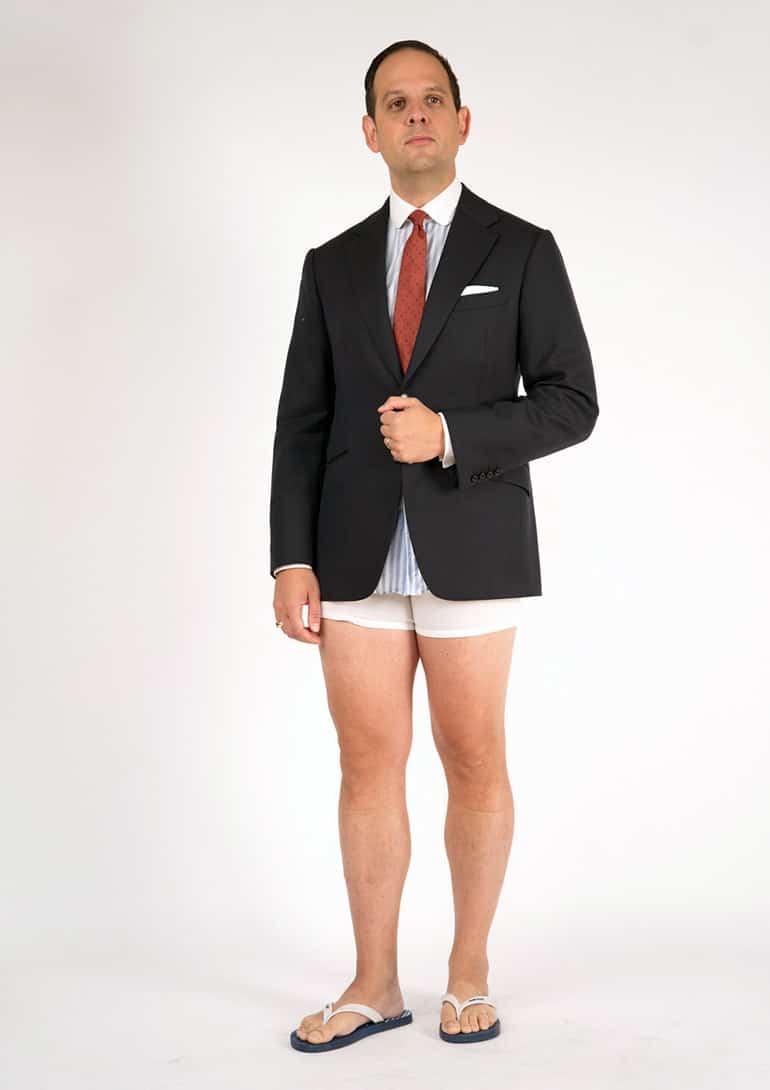 4. Don't Skip the Accessories if You Want to Look Good on Zoom
Accessories are, by their nature, decorative. They require a bit of extra effort, but they do pay off in spades. A white dress shirt and a navy blazer might say, "I'm wearing this because I have to," but add accessories and you will find that it transforms the look into "I care enough about how I look to make the extra effort." Since Zoom is usually a seated affair, focus on accessories for your arms and upper torso.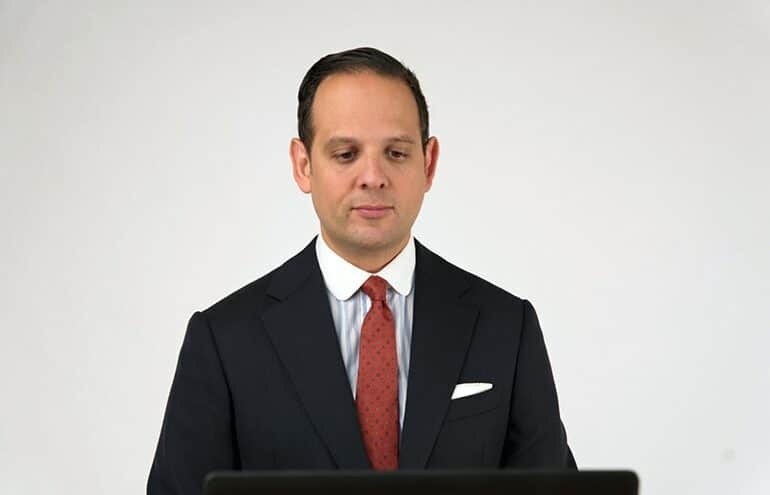 Bonus Tip to Look Good on Zoom
Position your camera so that the light hits you from the front or side, and have your background look as polished as your outfit. After all, even with the most proper attire, you will look amateurish if you can see your stuff in the background. If you live in a small apartment, a simple white backdrop or green screen allows you to create a professional setting.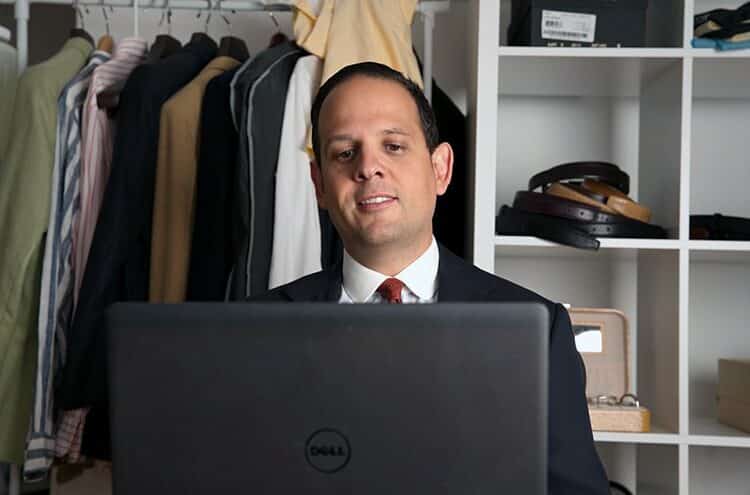 Feature Photo: Gentleman's Gazette LLC/Background iStockPhoto.
You Might Also Like:
"The Well-Dressed (Male) Lawyer" by Ryan Sullivan
"5 Tips for Online Court Appearances" by Joan Feldman
"7 'Public Speaking' Tips for Videoconferencing During the COVID-19 Crisis" by Marsha Hunter
"Zoom Backgrounds: Looking Good in a Tiny Square" by Bull Garlington
"Converting 'Resting Bitch Face' to 'Neutral Alert'" by Marsha Hunter
"How's Your Image? 6 Ways to Make a Great Impression" by Teddy Snyder
Subscribe to Attorney at Work
Get really good ideas every day for your law practice: Subscribe to the Daily Dispatch (it's free). Follow us on Twitter @attnyatwork.