Embracing change is exciting! Here are five ways you can future-proof your law firm and remain competitive for years to come.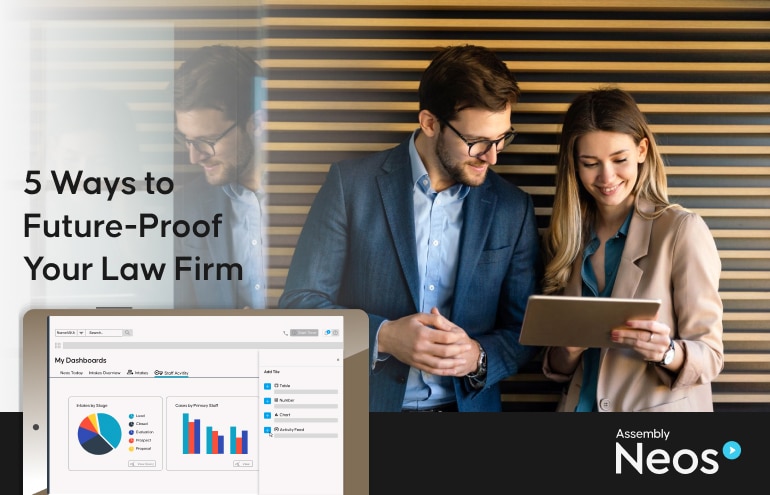 If there's one certainty in the legal profession, it's that the competition will keep getting stiffer. Client preferences are changing, staff is getting more expensive and the mantra "do more with less" has become unavoidable. Even if your law firm delivers top-notch service and results to clients, technology is evolving at breakneck speed. What's a law firm to do?
First of all, breathe. Embracing change is exciting, especially when it puts your firm on track to be more productive, profitable and efficient! Here are five ways you can future-proof your law firm and remain competitive for years to come.
1. Make Your Office Accessible from Anywhere
The pandemic proved that many companies could operate perfectly well with remote employees. And given that demand for office space is down 46% from its average in 2018-2019, it's pretty obvious that employers (and employees) remain reluctant to embrace traditional office life again fully. This is not to say that you should tear up your office lease and send your staff home to work in their pajamas. But hybrid work cultures are now becoming the norm. If your firm can still be productive when working from home a few days a week (or fully remote, if that's the case)—make sure your office is equipped with the technology to thrive in this environment. That means adopting technology like cloud-based case management software that your staff can access from anywhere and from any device if they have an internet connection. It means offering clients the option to meet in person or virtually via Zoom or another video communication platform. That said, if you find that your office has become little more than a repository for printed documents and expired coffee pods, maybe it is time to think about tearing up that lease .…
2. Meet Clients Where They Are
You may be used to bringing clients into the office for meetings and to sign documents, then calling them with updates about their cases. But thanks to technology and changing consumer preferences, that's no longer the de facto way of conducting business. Clients may prefer to talk with you over Zoom, sign documents online using tools like DocuSign, and get updates through SMS, email or client portals. And given the competitive environment for law firms today, forward-thinking lawyers are all about meeting clients where they are.
3. Embrace Digital Payments
Speaking of meeting clients where they are, preferences for transferring funds are also rapidly evolving. Clients are growing tired of cashing checks, as illustrated by the growing levels of adoption on platforms like Venmo, PayPal and Zelle, among others. Also consider how many hours per week your staff spends printing checks, mailing them and cashing them. It's probably more than you'd like to admit unless you've adopted some form of digital payment technology. With multiple options for getting paid and digitally disbursing funds to clients, there's no reason to remain beholden to analog payment methods.
Concerned about the security of digital payments? You shouldn't be. Reputable platforms leverage bank-level security protocols and fraud-monitoring technology to protect against bad actors. Moreover, while hackers and fraudulent digital transactions seem to get all the attention these days, fraudulent check cashing has been quietly increasing at astonishing rates. According to the Financial Crimes Enforcement Network, banks filed almost 700,000 reports of check fraud in 2020, almost double the number filed in 2021.
4. Expand Your Search for Talent
Tight labor market or not, legal staff are expensive, especially the most competent and experienced ones. (And who doesn't want those A-players on their team?) Before the rise of the "digital office," it was impossible to consider hiring someone outside of a reasonable commuting distance. Today, however, sourcing remote talent from geographic areas with a lower cost of living (including outside the United States) is becoming more popular. Companies have been outsourcing call center employees for decades for massive cost savings; now it's time to take a page from their book. If you can find an amazing paralegal in rural Kentucky to work for your Miami office, you can pay them a fair salary and save on overhead. It's a win-win for everyone.
5. Understand That Technology Has Its Limits
There has been a lot of buzz about how artificial intelligence (AI) is going to replace humans. AI technology (at this point, anyway) is a tool. It doesn't replace your staff; it makes them more efficient. Even the best game-changing AI technology has its limits and requires human oversight. (Chat GPT might be sued for defamation, ahem.) The best way to use AI and other legal technology is to empower your staff to offload repetitive tasks so they can focus their time on ones that require critical thinking and a genuine human connection. For example, don't waste paralegals' time manually generating hundreds of documents; instead, use a case management platform that can do this automatically. Then your paralegals can devote more time to client work, delivering better results and boosting client satisfaction — and the documents still get created.
It can be intimidating to consider how much our world has changed in the past few years and how much change there is to come. But change is unavoidable. Embracing it and adopting new technology that will allow you to thrive in the future is the way to success.
Future-Proof Your Law firm with Neos
Selecting (or switching to) legal software that meets your needs now and 10 years later takes work. Our dedicated product experts are here to help. If you are looking to upgrade your current system or move to a cloud-based platform, get in touch with us to learn more or request a 1-1 demo of Neos, powered by Assembly Software.
About Assembly
Assembly Software blends decades of history and industry experience with next-generation, customer-focused innovation. It brings together two of the legal profession's pioneering case management brands, Needles and Trialworks, both of which have contributed to Neos, Assembly's reimagined cloud-based solution. Neos has evolved and will continue to disrupt and transform the legal sector to meet the changing needs of modern law firms.
SPONSORED CONTENT. Our product spotlight content is provided by Attorney at Work sponsors and advertisers. This does not constitute a product endorsement by Attorney at Work. See Terms and Conditions for more information.