Sure, you will pay dearly to replace an associate or team member, but appeasing terrible people costs you plenty too. Understanding employee personality types helps you sort the puppies from the terrorists.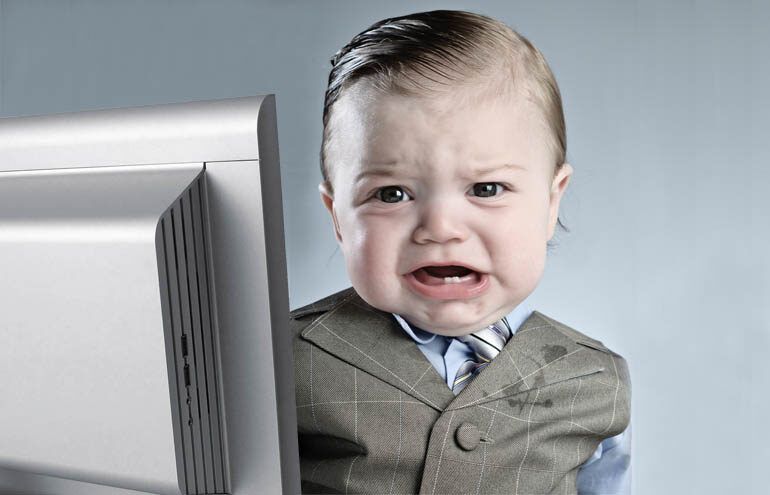 These days, staffing is one of the toughest things for law firms to nail. People loathe firing people. Especially if they are productive. They want to keep those employees at all costs.
So, imagine the firm owners' surprise when we label one of their most productive people a "terrorist."
Now, we don't do this entirely out of the blue. The owners know this person is a troublemaker — it's why we spend half our calls talking about them.
Let's call this troublemaker "Taylor" for clarity. Taylor is the highest billing lawyer in the firm but is always having little interpersonal scraps with other people — attorneys, paralegals and support staff alike. Occasionally, it spills over to clients. It's bad.
"But Taylor is the biggest biller!" the owners say.
This is when we talk about the four kinds of employee personality types.
4 Employee Personality Types: Stars, Rats, Puppies and Terrorists
Like most consultants, I like a good old-fashioned two-by-two grid. Your firm's Core Values are on the vertical axis and Performance, or Skill Set, is on the horizontal.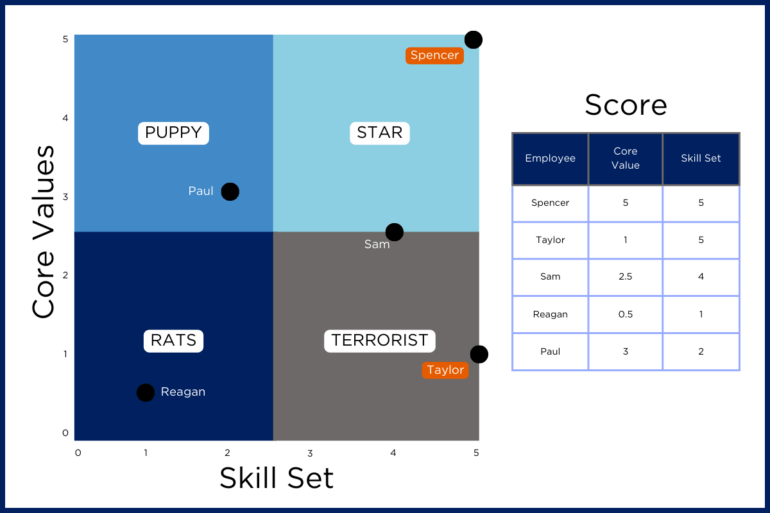 1. Stars
Let's start with the easiest employee personality type to identify. It's the top right grid — a high core value match, highly productive with a great skill set. These are our stars. We love them. They are the backbone of the firm. We can count on them to pitch in whenever and wherever needed. And that is a huge comfort.
2. Rats
OK, now let's look at the exact opposite: the bottom left quadrant — a low core values match and low productivity. These people are also easy to identify. What is STAR spelled backward? These people are called RATS. These are the people we hire quickly because we simply need a warm body that can fog a mirror. And we usually fire them just as quickly.
Now that we have done the easy ones, let's move on to the harder ones.
I don't believe you can teach core values. People are either a match or they aren't. I'm not passing judgment — the core values of your firm might be the exact opposite of the core values of another firm. Everybody has a match somewhere. However, I do believe you can teach skills and improve performance.
3. Puppies
The top left quadrant is high core values and low productivity. We call these people puppies because they're adorable, make everybody happy and are great to have in the office — but they piddle all over the floor. On the plus side, just like a real puppy, we can provide some training that helps them become well-loved and productive members of the family.
The biggest question here is whether you are able to give them the training they need. If you can't, then you are doing a disservice to them and their professional growth by keeping them on (even though you love them).
4. Terrorists
Now let's get to that last quadrant. Bottom right — highly productive but not a core values match. These people know how valuable their productivity is to you and the firm. They might say things like, "What would you do without me?" or "You would be in a world of hurt if I left." They know they have you over a barrel. They have probably come to you demanding more money. And you have to give it to them because they tell you they have a competing offer and will leave. They are holding you hostage. That's why we call them terrorists.
Terrorists Are Disruptive
Terrorists are disruptive to your team, so you start to build little walls around them:
"Oh, you want to work from home three days a week while everybody else comes in five days?" Great, Taylor the Terrorist, that means three days a week you will cause fewer problems in the office.
"You don't want to put your time into the billing system?" Fine. I can get your paralegal to do that at the end of every day.
"You don't want to take those types of cases?" Whatever. Spencer the Star never complains, so I'll give him those cases.
To protect your team, you are walling off Taylor from the rest of the firm and giving in to all of their demands. But here is the worst part.
By Capitulating You Risk Alienating Your Stars
You are not just alienating your best people, you are running them off. Why? Your star employees are frustrated and angry because they are doing everything right but feel taken for granted.
Spencer is just as productive as Taylor and helps at every turn. He shows up at the office five days a week, even though he would rather work from home. He takes those annoying cases nobody likes without complaining and even manages to enter his time every day.
Yet who is getting all the attention and perks?
Spencer the Star starts looking for a new position because he doesn't feel appreciated. You must gut up and fire the terrorist before Spencer leaves.
Do you know what will happen as soon as you do?
Fired! And Suddenly Everything Is So Much Easier
Spencer will thank you. Paul the Paralegal will ask what took you so long. Reagan the Receptionist will sound friendlier on the phone.
The office feels lighter. The tension is gone. Everything seems to get done faster and easier.
And even without Taylor the Terrorist, billing stays at the same level. How? Your team has gotten closer. They can work together without the terrorist creating problems.
So, the question is: "Have you hired a terrorist?" And if so, why are you holding on to them, and what are they costing your firm?
Image © iStockPhoto.com

Don't miss out on our daily practice management tips. Subscribe to Attorney at Work's free newsletter here >
Illustration ©iStockPhoto.com
Read more from Brooke Lively:
"Law Firm Overhead — What It Is and What It Isn't"
"How Are Law Firm Owners Paid? Total Compensation vs. Salary"
"Funding Growth: Are You Starving Your Law Firm?"
"Understanding Law Firm Profits and What to Do With Them"