Pay-per-click, PPC, paid search — these terms might be familiar to you. Perhaps you've even tried Google AdWords but found this digital marketing channel unsuccessful. Usually, that is due to a poorly optimized account instead of the channel "not working." Google receives well over 100 billion searches per month, and more companies are actively following best practices for ranking their websites organically.
With so much competition, you can't afford to leave PPC out of your firm's marketing strategy.
Google's AdWords allows you to specifically target the most profitable phrases that people are using in Google to locate services like yours. You set the ad budget and the amount you are willing to pay per click on your ad, hit the green button and voila. You are then eligible to show up above all the organic search results — making you more competitive for the types of clients you want. Now, the inner workings of strategy and maintenance are extremely complicated. Suffice it to say, there's a lot of statistics, calculations, charts and advertising nerdiness.
To give you a better understanding of why to use PPC, and how to better run your campaigns, here are five core strategies that will boost your ROI.
1. Prove PPC Performance
How many customers did your last radio ad bring in? Your billboard? They might have generated some business, but do you know if you are losing or making money on those channels? PPC tracks details of user behavior so you know exactly how much you spent and how many leads you received from, say, "car accident" keywords versus "medical malpractice" keywords. You can actively test variants of ad messaging and tweak your campaigns based on what is performing. This data is then used to make educated adjustments to further optimize the account.
When it comes to using advertising in the most profitable manner, data is everything. So you want to take full advantage of the various columns and segmenting features available on platforms like AdWords. With information on cost per lead, market share and engagement via phone calls versus form submissions, for example, you can refine your ads to become a virtual money machine.
2. Quick Results
Real talk: No one likes the "patience game." Ask any search engine optimization (SEO) specialist and they will tell you results can take time. For some websites, increasing rankings and building links can sometimes take months and years. Is SEO still valuable for your firm? Absolutely. However, this is one area where PPC and SEO can work hand in hand to speed results.
PPC allows you to set a budget, determine the keywords or phrases your clients are using, and immediately show your website at the top of search results. For example, if your firm wants to drive additional business to a particular practice area for one month, then shift focus the next month, PPC is your engine to make that happen. Are you in an extremely competitive market where your website is not yet ranking? PPC can help you win in that market now.
The most successful digital marketing campaigns are multifaceted. SEO can help reduce the cost per click of your PPC campaigns by increasing your website's relevance for targeted keywords. PPC can allow you to quickly enter a competitive market, and capture additional real estate on search engine results pages.  
3. Scale Your Most Profitable Keywords
Determining your most profitable marketing channels is only half the challenge. Once you've identified them, they will eventually plateau or require a massive investment to continue to grow. AdWords allows you to clearly see which search terms are making you the most money, and increase the budget for the terms identified as profitable. Adjustments are made in real time, meaning if you have 50 percent market share on a particular set of keywords, you can see an increase immediately as you increase your budget.
To gauge room for growth in a particular market or keyword, add the "Search Lost IS (rank)" and "Search Lost IS (budget)" columns. A keyword with a high percentage in the "(rank)" column indicates a keyword that would benefit from increasing its bid, or cost per click. Try increasing the bid in small increments and monitor the changes in market share and cost per lead. If on the other hand, you see a large percentage in the "(budget)" column, you may want to try increasing your available budget at the campaign level or break out a keyword into its own campaign so more money is dedicated to that particular phrase.
4. Use Multiple Channels
Digital ads are everywhere and running them allows the flexibility to focus in on the areas where your clients "hang out" the most: display ads at the top of Google search results, before popular YouTube videos, images on relevant websites, and within a customer's Facebook feed.
I am frequently asked, "Which platforms should I start with?" The answer, of course, is it depends on your business. However, on a basic level, Google Search ads let you target people based on their searches, known as "intent-based marketing." This type of advertising can be extremely profitable if you are most interested in capturing leads as quickly and effectively as possible. Facebook and YouTube, on the other hand, are great platforms for branding and awareness, since targeting is based on demographics and behaviors of people, rather than what they are actively searching for at the time they view your ad.
5. Control Targeting
The amount of control AdWords provides over where and when your ads are seen, and what the customer sees, is unprecedented.
You don't offer "pro bono" services? Exclude your ad from any Google search that includes that phrase.
Looking for clients only within a 15-mile radius of your office? Thanks to geo-targeting you can specifically target customers within that radius, or choose to show your ads only during business hours to Android smartphone users.
The depth of customization is mind-boggling and can be tailored to your business goals.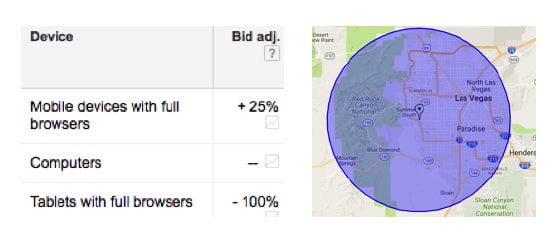 PPC advertising can provide the competitive edge you need to dominate the market for your most profitable services. If your digital advertising efforts have been entirely focused on a single strategy, now is the time to diversify. If, on the other hand, you are currently running a PPC campaign for your firm, be sure to dedicate the time and attention needed to maintain a positive ROI. With the ability to enter a market and change targeting so quickly, platforms like AdWords require constant monitoring to address competition fluctuations and refine targeting.
Illustration ©iStockPhoto.com
Get "One Really Good Idea Every Day"
Sign up for Attorney at Work and help us grow! Subscribe to the Daily Dispatch and the Weekly Wrap (same price: free). Follow us on LinkedIn, Facebook and Twitter @attnyatwork.