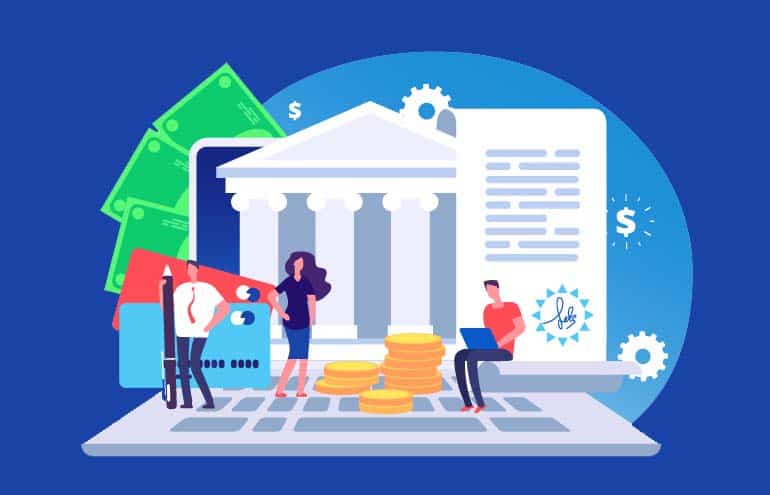 Rocket Matter Premier
Rocket Matter helps law firms be more productive than ever while managing their high volume of matters and monthly billing with ease. Founded in 2007 as one of the very first cloud-based legal practice management software companies, Rocket Matter has helped thousands of law firms streamline their workflows, increase their revenues, and offer outstanding client service.
As mid-sized and large law firms transition to the cloud, they're seeking more sophisticated billing options than what currently exists in many cloud-based legal billing applications. With the new automation functionality included in their latest Premier tier, Rocket Matter helps these firms be more productive than ever while managing a high volume of matters and monthly billing with ease.
Read on to learn more about the powerful functionality included in Rocket Matter's Premier Tier:
Business Intelligence
Rocket Matter's Business Intelligence module takes high-end reporting to the next level, providing you with data you can rely on to help build a better practice.
Easily design your own reports with an easy-to-use drag-and-drop interface. With just a few clicks, you'll generate high-level reports based on matters, clients, contacts, activities, invoices, tags, and even custom fields.
Customizable Billing Rules
If you work with LEDES codes, you're in for a treat. Rocket Matter supports the capture of LEDES codes everywhere – in their mobile application, within their Office 365 integration, when you work on tasks, upload documents, and in dozens of other locations and features.
When combined with Paperless Prebills (see below), Rocket Matter offers the most powerful support among legal billing software providers for ensuring your law firm invoicing is quick, timely, and accurate.
Law firms can define custom rules on a client-by-client basis to make sure that timekeepers adhere to specific billing requirements. When a lawyer enters time, Rocket Matter will ensure that the submitted time entry does not violate billing rules and will prevent the time entry from being logged with an appropriate error message.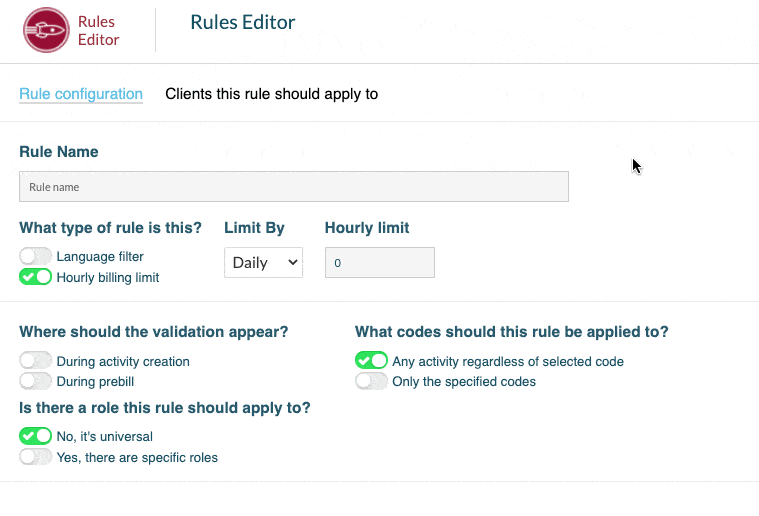 You can also go Lean by gaining actionable insight into your core business. Pulling specific KPIs, such as Average Case Unit Value (ACUV) and Throughput Rate (TR), may alert you to hidden bottlenecks in your workflows. The data may also reveal opportunities for you to improve your practice such as considering alternative fee arrangements or shortening cycle times.
Additionally, you can initiate "Audit Mode" on Rocket Matter's prebill and batch billing screens, allowing you to see (and FIX!) any legal billing rules violations across all of your clients and pending billable activities. This functionality is game-changing for Insurance Defense firms, who routinely see 20 to 30% of their invoices rejected by their clients.
Automated Paperless Prebills
Paperless Prebills get rid of the need to print out a stack of mocked-up invoices for attorneys and other timekeepers to review for accuracy. Instead, the invoice verification takes place electronically, in one central location, and is tied directly into the Rocket Matter invoicing platform.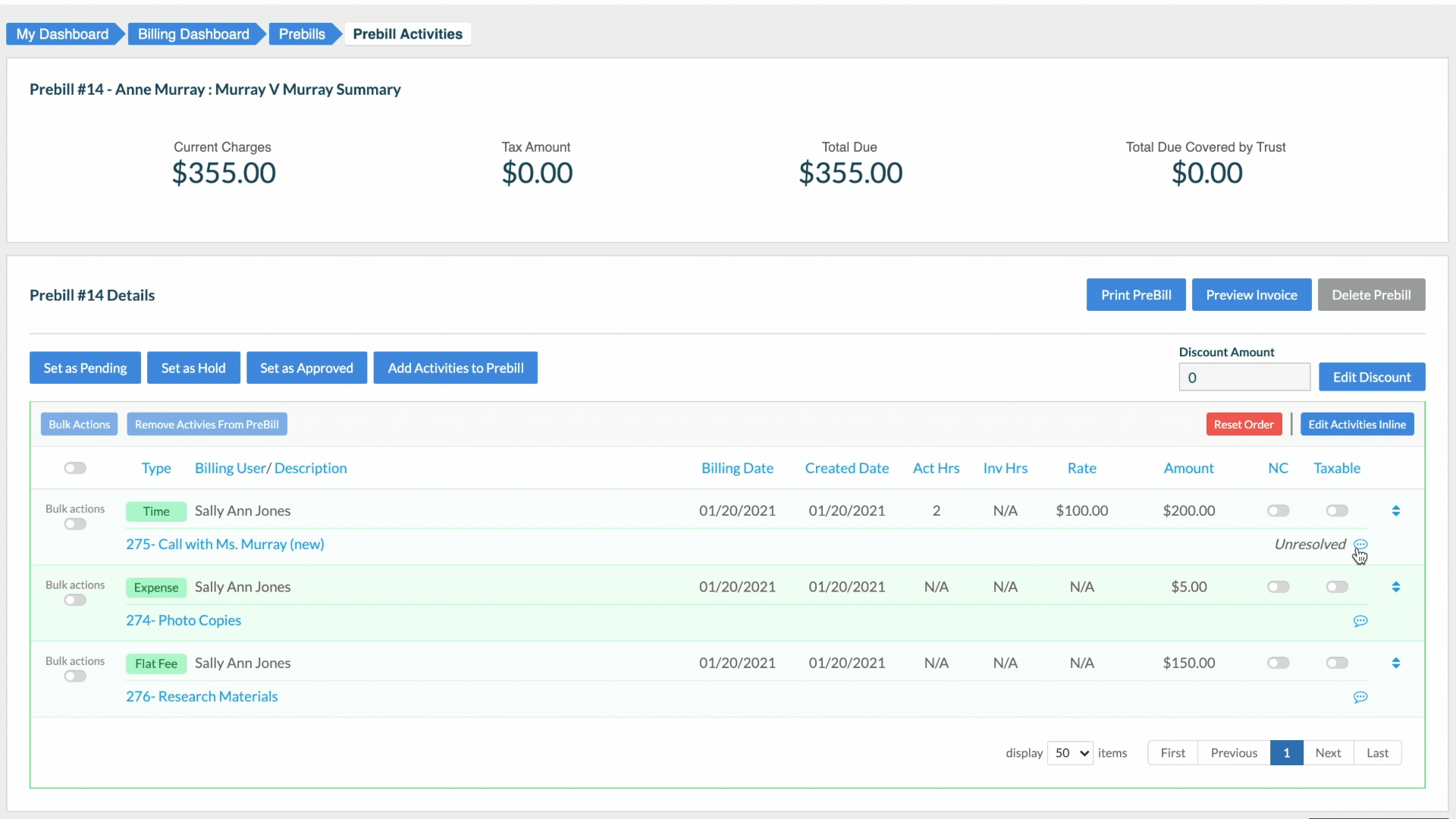 Additionally, Paperless Prebills allow the billing department to prevent (or allow) additional changes to matter invoices when they are going through the invoicing process. This ability to "lockdown" a matter keeps everyone at the firm on the same page and prevents accidental time entries from slipping onto an invoice and out to the client.
Finally, you don't even have to manually run prebills. Rocket Matter has taken law firm automation to the next level. With their new scheduler, you can configure your prebills to run automatically, making your life a whole lot easier.
E-Signature and Secure File Sharing Powered by ImagineShare
ImagineShare is currently a standalone product included with Rocket Matter's new Premier tier. This functionality replaces that of not only DocuSign but other document-sharing platforms such as Box and Dropbox.
You can use ImagineShare from your favorite browser, just like any other e-signature product on the market. You can also create e-signature documents directly from within your Outlook email. And as its name implies, ImagineShare is also a full-fledged filesharing application, giving you the ability to securely send and request documents directly from within Outlook or your Rocket Matter account. Documents can be password protected to ensure your client's security and confidentiality.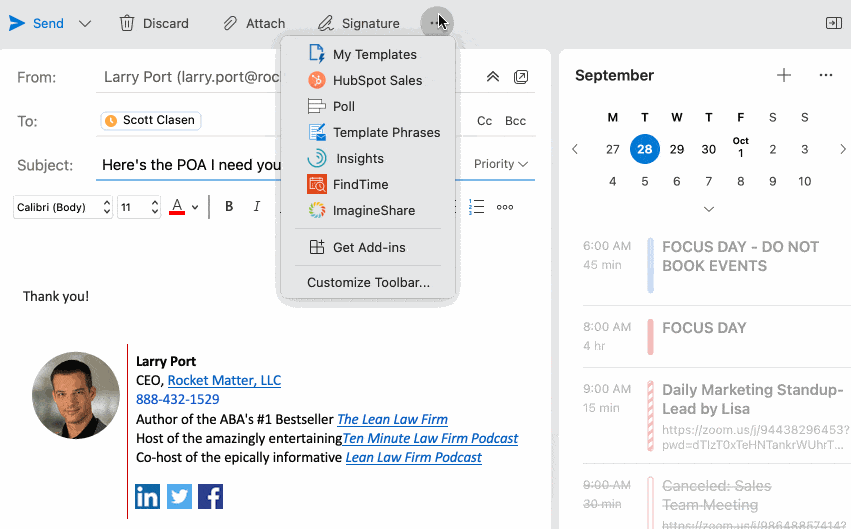 Advanced Role Permissions
Most security breaches are caused by insiders and are not sophisticated cyberattacks from outsiders. That's why Rocket Matter built a way for you to secure your data from both outside and inside the firm, using the most configurable set of security permissions available among legal practice management software.
Rocket Matter's advanced role permissions give you complete flexibility and granular control over permissive access throughout the system. Specify the actions users can take inside of Rocket Matter, down to individual features.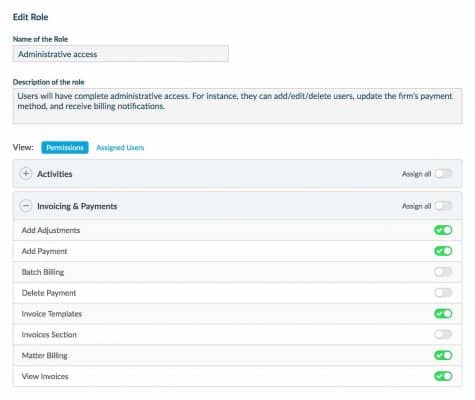 With the addition of the functionality included in their new Rocket Matter Premier tier, Rocket Matter has solidified itself as an ideal application for firms with highly demanding billing needs.
Schedule a free personalized demo to learn more or to get started with Rocket Matter Premier today!
AAW Product Spotlight is sponsored content that showcases content provided by Attorney at Work sponsors and advertisers. This does not constitute an endorsement by Attorney at Work. See Terms and Conditions for more information.