I am behind enemy lines. My hands are gripping a stylus. My face is bathed by blue light in the darkness. I know I'm not going to make it. With a flourish, I sign the signature line on a PDF on a Remarkable 2 to seal my fate. Now I am a … digital.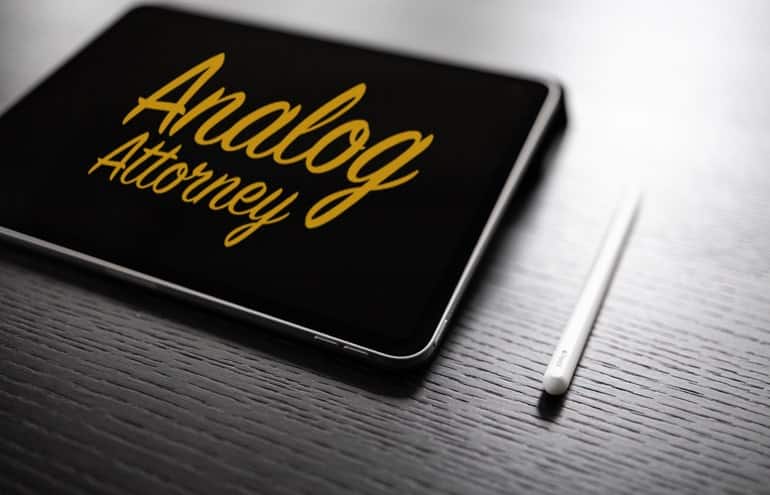 My assignment was simple enough: Gather intelligence on the Remarkable 2 and determine its threat level to the analog way of life. A simple in-and-out job. Minimal casualties. Textbook work I can do in my sleep, except I broke the one rule you can't ever break. I fell in love.
And That's How I Gave Up Paper Notebooks for a Tablet
Not totally — that's impossible. I have a small rainforest's worth of unused notebooks on my bookshelf. I'm still analog. I still wear the uniform. But they got to me, man. They got into my head. Into my heart. I am one of them now. I take notes on an e-tablet.
It's not my first time. A million years ago, I thought my brand-new PalmPilot would change my life. But all it did was beep all the time and make me learn a new alphabet, which turned out to be useless and dumb. All my real work has been done on paper in logbooks and planners. I've been a paper pusher for decades.
There are Reasons to Prefer Pen and Paper Over Stylus and Glass.
Partially it's the feel of it. The scritchy scritch drag of a pen's nib over the paper. I like cheap paper instead of expensive stationery. That disposability lets me be insanely creative without fearing I'm wasting expensive cotton rag on doodles. I know it's a little hipster, a little extra to nerd out over luxurious writing implements and Baron Fig (my love) cloth-bound notebooks. But clearly, I'm no longer part of an emergent trend. "Paperists" are a market now.
But What If Cool Pencil and Paper Cred Is Bad for the Planet?
There's no way around it. Paper comes from trees. Although there are some alternatives to wood pulp paper, they are a sliver of the global market. Most paper is paper, and when you use it to doodle a Douglas fir, you're engaging in some dark irony. Analog tools are made from natural resources. That affects the environment and grows your global footprint. Even if you work hard to use only paper salvaged from the enormous pile of discarded manuscripts mined out of Stephen King's backyard. Doesn't matter. Every page I tear off my recycled legal pad is the skin of a tree.
Which Is Why a Digital Notebook Is Better
Unless it isn't. It depends on your ethical position. One 2020 analysis compared the life cycle assessments of an iPad, a Remarkable, and a paper notebook for their impacts on the environment. The scenario was populated by university students taking 70 pages of notes per class per semester. In all aspects of the study, using paper showed a significantly lower environmental impact. According to science, paper is better for the environment.
It can be concluded from this study that for a student considering a new note-taking device, paper notebooks seem to be more environmentally friendly than the tablets, given the current state of technology.
It can be concluded from this study that for a student considering a new note-taking device, paper notebooks seem to be more environmentally friendly than the tablets, given the current state of technology.
But Wait a Minute, What About the Future?
The technology of paper has reached its zenith. It is a time-tested technology whose bugs and glitches were ironed out centuries ago. Electronic tablets are still in the crib. The Remarkable 2 is only the second iteration of the device. By its sixth or seventh iteration, power usage, production of its motherboard, and internal system may improve by a lot. Same with all devices: They get better, cost less, have less impact on the environment. Using a tablet now grows the market, leading to greater advances in minimizing environmental footprint while maximizing its capabilities.
Trees aren't going to get better. And, chopping them down is, perhaps, a bad idea for a planet that needs a whole lot of them to exhale to keep it from bursting into flames. The long game of using devices may be important. The short game goes to paper notebooks.
But Electronic Note-taking Tablets Are So Cool!
Undeniably so. The Remarkable 2 and Ratta's Supernote A5 X are a serious notetaker's dream. They feel like paper. Looking at them, reading from them, is just like reading from paper. They use electronic ink instead of backlighting (like the iPad), and so they're more pleasant and better on your eyes. They don't have 16 million apps. They don't have color displays. They are, experientially, the same as paper.
Let's Compare the Top Three Tablets
As your analog-digital spy, I've secretly investigated three top devices. I peeked under their hood, looked at the fine print and kicked the tires (mixing metaphors is hard work) to see which ones are worth the money.
The answer surprised me.
1. The Remarkable 2 is trending, and so is the idea of digital pen latency.
It's mostly because of their 2020 relaunch, which offered subtle design upgrades and a not-so-subtle kick in their pen lag. Pen lag, or latency, is the time it takes ink to appear when the stylus is applied to the screen. The ideal lag for electronic penmanship is … in the eye of the beholder. The lowest latency appears to be 7 milliseconds. Amateur tests are all over the place, but a lag of 19-21 milliseconds is the current sweet spot.
Because our minds fill in spaces to complete patterns and pictures, a 20-millisecond lag on a digital writing surface is close enough to the zero lag one gets writing on actual paper. The Remarkable 2 delivers that consistently. Apple says the iPad and Apple pen latency is 9 milliseconds, but again there is a perceptual quality that comes into play.
Even with haptic feedback, writing on the iPad feels like writing on glass. On the other hand, writing on the Remarkable 2 and the Supernote really does feel a lot like writing on paper. Once you get over the novelty threshold, you'll probably forget you're writing on a device and experience it as if you were using paper.
The Remarkable 2 still has the lowest pen latency of the table devices emulating paper — by a lot. Norwegian technology YouTuber Vojislav Dimitrjevic put various pens to the test and found the Remarkable 2 delivers a latency of 27.10 ms. The next fastest lag was the Papyr with 42.40.
The Remarkable 2 lags other devices in one critical area: storage. With just over 6GB, it's well behind the Supernote's 32GB and the iPad's max of 128GB.
And once you add the slipcover and the pen (which is extra), it's a pricey device ($567*).
(Thanks to LegalTypist, readers who click this link to the Remarkable, receive a nice discount. For more on the Remarkable's benefits, "These are a Few of My Favorite Things" by Andrea Cannavina.)
2. The Supernote took a weird turn for the paper feel.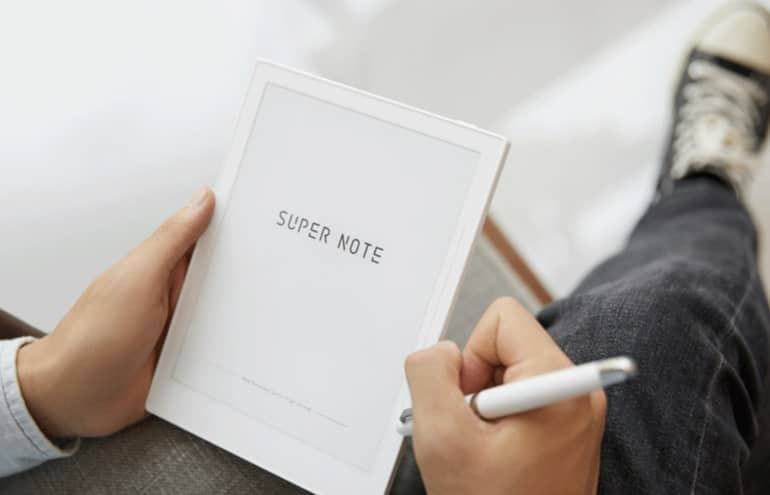 I would have loved to be in the meeting where someone at Supernote yelled out, "Make the surface soft!" Because that guy got thrown out a window. But they did it. The Supernote A5's surface is coated with FeelWrite soft film developed from the "highly elastic automotive v-belt." So when the nib of their stylus impresses their "page," it actually impresses their page. Like paper.
The nib is ceramic. Which means it never wears out, but there's another cool thing about their pens. Where Remarkable 2 mimics the feel of writing with a pencil, Supernote mimics the feel of writing with a ballpoint pen. According to the company, "We choose the more difficult direction because most people use ballpoint pens/fountain pens more than pencils in their daily lives. We think, 'This is the way.'"
The Supernote is like the Remarkable 2 in the interface and user experience. Both use e-ink. Both chose to disregard illumination. Both are shooting for the undistracted writing experience. Supernote's pen, however, is where this tablet stands out. Their stylus is designed with the avid pen user in mind. It looks like a pen. It has a cap. There is the standard pen, which is a nicely designed, nicely weighted writing tool.
Then there is the Heart of Metal series of pens, all wonderfully styled, looking like fat Pilot Metropolitans, in at least eight different styles. But the crown jewel of their accessories is the Lamy series stylus. Partnering with Lamy not only gives the user a classic, globally recognized fountain pen shape as their stylus, but it also lends the device all the street cred of the famous German pen. It's a stroke of genius.
But like the Remarkable 2, the Supernote A5 X is pricey.
Shopping for both these devices is exciting. The Remarkable 2's video is mesmerizing, and the Supernote's details and design are pure clickbait for compromised analogs (ahem). The writing experience is stripped down to the bones of what writing is: dragging the tip of a pen across paper and nothing else. I mean, file storage, a little monochromatic web surfing, Wi-Fi, and email exchange — sure. They have that. But they've aimed to achieve the perfect digital version of paper and they come remarkably close. For nearly $600.
3. Seriously? I Can Get a Loaded iPad for Half That Price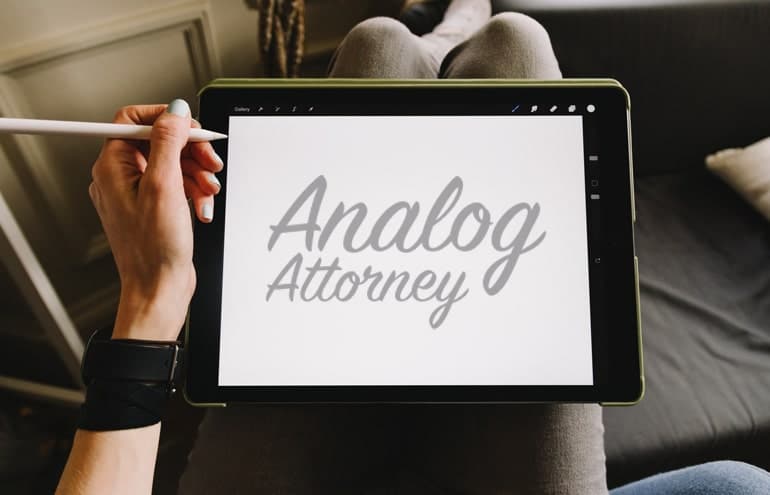 And the iPad can do anything. I can run my entire business off an iPad. I can run Photoshop, listen to North Mississippi blues, watch a slideshow, and take notes by hand. Simultaneously. For $329 bucks. Will I be distracted? I like to think of it as multitasking (see above). Sure, you're writing on glass, but I can slap a Paperlike screen protector on it and the feel is close to paper. It's not bad.
The fact is, the iPad is the best bang for your buck — unless the price isn't the deciding factor and the minimalist thing is what you're looking for. If you want to exchange your Baron Fig for an e-tablet, then the current winner is the Remarkable 2. It's remarkable. I swear.
| | | | |
| --- | --- | --- | --- |
| | | | |
| | | | |
| | | | |
| | | | |
| | | | |
| | | | |
| | | | |
| | | | |
| | | | |
| | | | |
| | | | |
| | | | |
| | | | |
| Price with sleeve and basic pen | | | |
| | | | |
*Thanks to Legal Typist, Attorney at Work readers can get a $40 discount on a Remarkable 2 here.
Featured image by Andreas Haslinger on Unsplash; iPad photo by Kelly Sikkema on Unsplash

Subscribe to Attorney at Work
Get really good ideas every day for your law practice: Subscribe to the Daily Dispatch (it's free). Follow us on Twitter @attnyatwork.