Even the most junior lawyers are expected to supervise colleagues and staff. How does that work out when you are still learning your job — and the ways of your new firm? Here is some much-needed advice from Meyling Ly and Fernando Llaguno on leading teams as a young lawyer.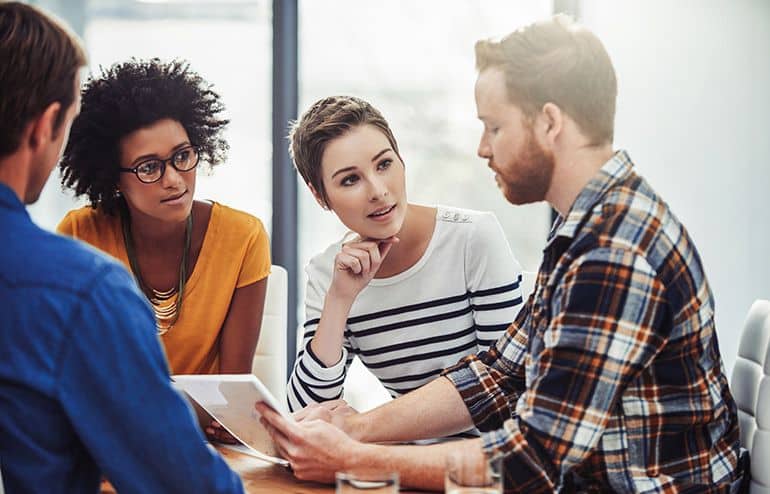 As a new lawyer, once you join your first law firm, despite your inexperience, you will be expected to be a leader. And we don't mean the informal, set-an-example-for-others type of leader. We mean it quite literally. Unbeknown to most new associates, even the most junior attorneys have a supervisory role over team members. This includes paralegals, legal assistants, and your law firm's office services support staff.
An added challenge to this newfound supervisory role is the fact that most, if not all, of the people you supervise know more than you. And everyone knows it. The partners, senior associates — and team members you will be supervising. Yes, as a junior associate, you attended law school and, in theory, learned how to think like a lawyer, but it is the experienced legal assistants, paralegals and staff who know how the practice of law — and the firm — works.
They know "how the sausage is made."
The Key? Lead Through Learning
As junior attorneys, we often arrive at our new job feeling that we have something to prove. That is 100% right, but probably not for the reasons we're thinking. We do indeed have something to prove. We have to prove we are ready, willing and able to learn.
This is not a "how to be a good teammate" piece. There's not much we could write that would improve on the Golden or Platinum Rules, anyway. Instead, we offer some practical ideas to help junior attorneys develop effective, mutually beneficial new working relationships and earn the respect of their new teammates.
Know What You Don't Know as a Young Lawyer
The first piece of general advice for leading your team is to recognize and appreciate that your new colleagues are a treasure trove of information — and that information is key to your success. They simply know more than any of us do as new lawyers. Indeed, they have the skills and expertise you will need to rely on as a lawyer throughout your career. Examples of this knowledge include:
Firm culture
Colleagues
Firm mechanics
Compliance with applicable rules of civil procedure and court rules
Client preferences and expectations
The reputations and tactics of frequent opponents
With regard to firm culture, your colleagues probably know the unspoken, unwritten rules everyone is supposed to know, like what time does everyone get to the office and what time does everyone leave? Is it OK to work with the door closed or should doors stay open? Is taking time off for more than a long weekend acceptable for an associate?
With respect to colleagues, what do you need to know about personalities? What are senior lawyers' preferences, expectations and work styles? Who can you go to with a question without harming your reputation? Who prefers two spaces after a period (even though that is technically no longer the standard)?
On firm mechanics, what are the protocols or policies? What do the logistics of getting the work done look like? Who is responsible for what and how much time is necessary or reasonable? For a deposition, who sends out the notice and who schedules the court reporter?
The worst thing you can do as a new lawyer is act like the know-it-all, "I just graduated top-of-my-class-so-you-are-lucky-to-witness-this-brilliance" type.
All for One and One for All
The second piece of general advice is to recognize and appreciate that your colleagues and staff understand that you are a team. They know the success of one member is inextricably linked to the success of every other team member. In other words, your team wants you to succeed because your success is their success and vice versa.
A drawback to our new hybrid work reality is that it tends to provide fewer opportunities for new teammates to directly interact with co-workers, integrate into the team and organically absorb information. This makes it much harder to build authentic relationships. To counter this, junior attorneys must proactively seek out the information and types of integration opportunities that used to come more naturally and organically.
Six Tips for Leading Your Team and Building a Respectful Working Relationship
General advice aside, here are some specific things that any junior attorney can do very early on the job to build mutual respect and get the most from your new working relationships.
Schedule a one-on-one (1:1) meeting with each new teammate you expect to be working with regularly.
Vocalize early in the 1:1 that you recognize you have a lot to learn from your teammate and are excited to do everything possible to build a positive and productive working relationship.
Come to the 1:1 with a list of questions to ask your teammate about their job, including how things work best in their experience, and their ideas for how to best build the productive and positive relationship you're looking for. You might want to start by asking about them personally, as appropriate: How long have they been at the firm? What do they love about their job? The firm?
Listen intensely and follow up as appropriate.
Take notes, but not in such a way that prevents you from actively listening and conversing. If the 1:1 has to be done via Zoom or Teams, ask your teammate if they mind you clicking to have the session auto-transcribed so that you can refer back to it as needed.
Here are potential questions for the 1:1:
What can I do in my job to make your job easier?
What protocols or practices have you had in place with other attorneys that have helped get the work done right and on time?
What things have you found to be counterproductive that I should be on the lookout for or avoid?
Is there anything about the way the team normally does things that you think could be improved? If yes, how?
How would you like us to check in with each other on our progress and how often do you recommend we do it?
Who are the "miracle workers" on the team who always seem to do the impossible and how do we stay on their good side?
This list is by no means exhaustive, and it doesn't take into account the diversity of roles and tasks your teammates perform. Again, the aim of 1:1s is to make clear that you appreciate you have a lot to learn from your teammates and want to do everything possible to build a positive and productive working relationship.
Follow Up After the 1:1
You've had your 1:1, now what? Follow through!
Make sure you are following through on your conversations and putting the valuable tips and lessons you received into practice. Make these 1:1s part of your work routine going forward. Use them to check in with your teammates and get their feedback on how well you're progressing toward the positive and productive relationship you want.
Finally, get into the habit of working every person you identify as a key contributor to your practice into your 1:1 rotation.
Show Respect, Gratitude and a Learning Mindset
Prove to your teammates that you respect them and want to learn from them, and they are sure to respond by returning your respect, teaching you the keys to your success, and working with you to achieve it.
One last tip: Don't forget to show genuine gratitude with the occasional coffee, lunch, personal note, and group shout-out.
Photo by Nick Fewings on Unsplash
Meyling "Mey" Ly is Managing Counsel of Employment at Toyota Motor North America, Inc. Her passions include mentoring, championing diversity and inclusion, and a personal blog: TheMeybe.com. At home, you can find her doing her best to be a "fun" mom to a toddler and preschooler and chasing her best self on her Peloton (her handle is Meybe if you want her to try to chase you too). You can follow her on LinkedIn and @Meybe_JD on Twitter. (And you knew this was coming: Her opinions are hers alone.)
Fermin H. Llaguno is a partner and the founder of Littler Mendelson's Orange County, Calif., office. He advises and represents clients in all areas of labor and employment law. With experience in all facets of the litigation process, his practice includes both individual plaintiff and class action litigation. He is a founding member of Littler's Spanish Services Group and has served as a member of the firm's Board of Directors and Diversity and Inclusion Council since 2007. You can follow him on LinkedIn here.

Don't miss out on our daily practice management tips. Subscribe to Attorney at Work's free newsletter here >
YOU CAN NEVER HAVE TOO MANY MENTORS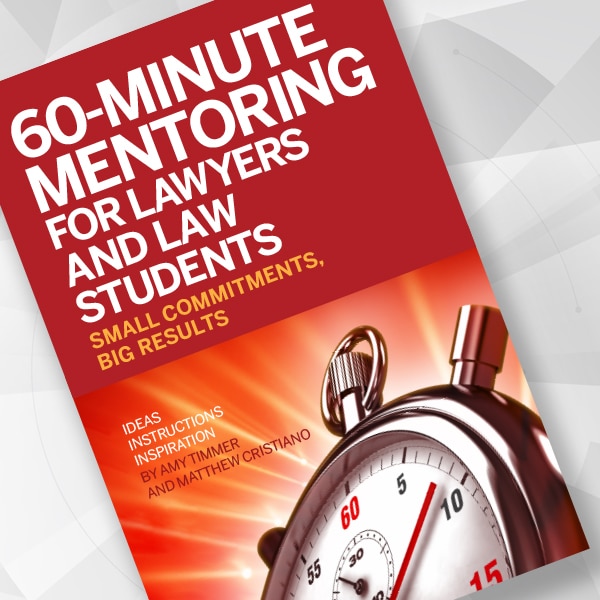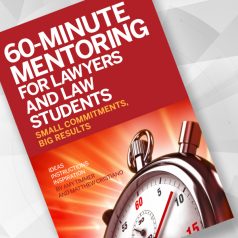 60-Minute Mentoring for Lawyers and Law Students: Small Commitments, Quick Rewards. In this easy-to-use guide, Amy Timmer and Matt Cristiano explain why having more than one mentor is essential for new lawyers — and they set you up to make the most of mentor relationships. The book explains how 60-minute mentoring works (versus traditional mentoring); finding mentors; questions to ask; how to plan for mentoring sessions; and much more. This helpful guide is packed with sample questions, anecdotes and checklists.