If you're using the new Outlook interface, you'll want to customize the settings to best meet your needs. Many of your settings from the "old" Outlook carry over, but most of them are found in a new location. Other settings are gone, and there are new Outlook settings to consider.
The New Outlook
Earlier this year, Microsoft rolled out a new Outlook interface that closely mirrors the web interface. Microsoft 365 subscribers can try the new interface by toggling on "Try the new Outlook" in the upper right-hand corner. You'll need to restart Outlook for the changes to take effect.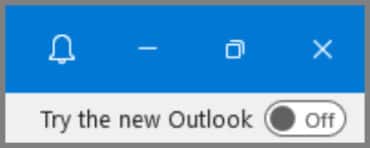 How to Change New Outlook Settings
In the new Outlook, the File menu is gone. To change settings, you'll need to click on the gear in the upper right corner. The new Outlook settings are organized into groups on the left-hand side.

General Settings
All of the settings below can be found under General.
1. Notifications
To change when you receive notifications, click on Notifications. Here you can control how Outlook notifies you of incoming emails and reminders.
With the rate new emails come into your inbox, getting alerts for every new email can be really distracting. Outlook can play a sound and send you a desktop notification for every new email. Consider unchecking "play a sound when a message arrives" under "in-app notifications" and "for messages" under "desktop notifications."
If people "react" to your messages, you'll also want to uncheck "notify me when someone reacts to my message" and "play a sound when someone reacts to my message" under "in-app notifications."
2. Search Defaults
To change the default scope of searching Outlook, click on Search. You can choose between all folders and the current folder or all folders when searching from the inbox. You can also select whether to search deleted items and to show the top three more relevant results.
Email Settings
The settings below are all found under Mail.
3. Focused Inbox
The focused inbox sorts emails into two lists: Focused and Other. Emails that Outlook deems most important are sorted into the Focused list. Everything else ends up in the Other list.
You can turn the focused inbox on or off under Layout. In the "old" Outlook, this was found on the View ribbon.
If you turn it on (or leave it on), don't forget to check your other list for important emails.

4. Message Reminder
Do you want Outlook to help you remember to reply to or follow up on messages? If so, it'll bring messages it thinks you need reminding of to the top of your inbox. Under Layout, you can try this feature under "message reminders."
5. Undo Send
You no longer need a rule to automatically delay sending messages. With the new Outlook, you can delay sending messages by up to 10 seconds. If you enable the delay, Outlook will show you an undo button at the bottom of the screen when you send a message.
You can turn this on under "compose and reply."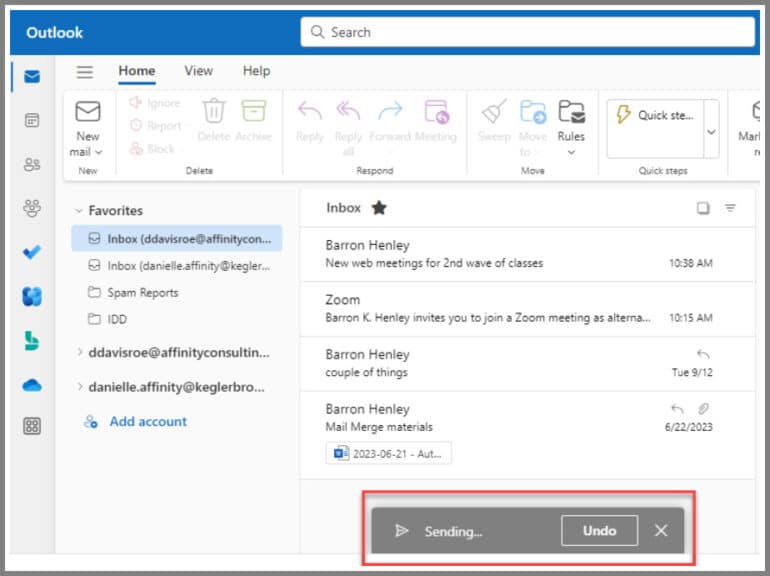 6. Customize Actions
Under Customize Actions, you can control which actions and add-ins you want to see when you select a message to read. You'll see these actions in the upper right corner of the email (either in the reading pane or when the email opens in a new window).
Calendar Settings
The settings described below are found under Calendar on the left side.
7. Adding Online Meeting Details to All Meetings
Outlook distinguishes between "appointments" and "meetings." An appointment is an event on your calendar that nobody has been invited to through Outlook. A meeting is an event on your calendar that at least one other person has been invited to.
Outlook can automatically add Teams (or Zoom) videoconferencing details to every meeting. This can get confusing if you are meeting in person and forget to remove it or are actually meeting using a different videoconferencing platform.
To turn this off, click on Events and Invitations. Uncheck "add online meeting to all meetings" under "events you create."
8. Customize Actions
Like your email, you can control which actions you see on calendar events. Click on Customize Actions to control which buttons you see.
Learn more Outlook tricks like this in Affinity Consulting Group's "Microsoft Outlook for Legal Professionals."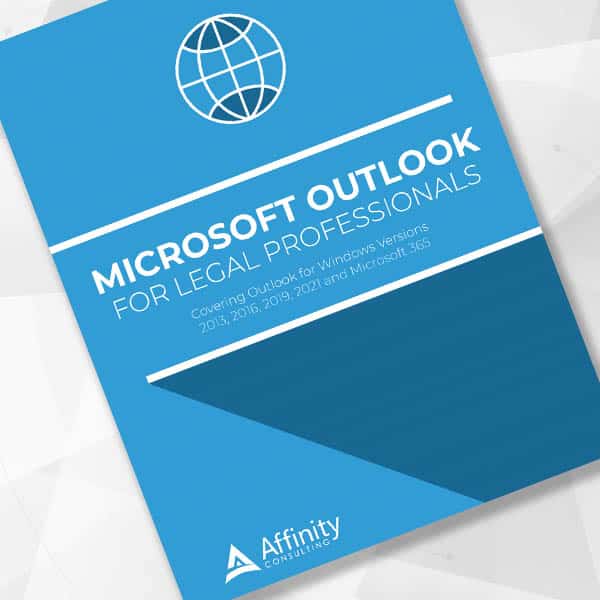 How to Make Email, Calendar and Contact Management Easier
For in-depth information and instructions on getting the most from Outlook (including all the little-known things that make email easier), order the digital manual "Microsoft Outlook for Legal Professionals." Available now for download in the Attorney at Work bookstore.
---
More Office 365 Training Manuals for Lawyers
Check out Affinity Consulting Group's "Microsoft Word for Legal Professionals," "Excel for Legal Professionals," "Outlook for Legal Professionals" and "PowerPoint for Legal Professionals." Each manual zeros in on your practice's needs with in-depth instructions from Affinity experts on getting the most out of your tech.
About Affinity Consulting Group
Affinity Consulting Group inspires, enables, and empowers legal teams of all sizes to work smarter, from anywhere. The company's holistic approach incorporates people, process, and technology. Affinity's passionate, well-connected industry experts work hand in hand with you to help you better understand and optimize your business—from software to growth strategy, and everything in between.
Image © iStockPhoto.com

Don't miss out on our daily practice management tips. Subscribe to Attorney at Work's free newsletter here >