Use marketing automation to streamline email campaigns, reach more leads in less time, and create data-driven strategies that work.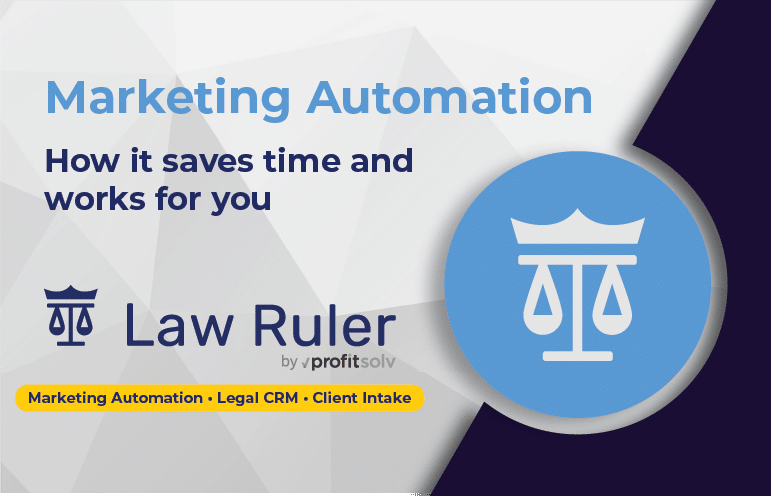 There aren't enough hours in a day for attorneys or legal staff to constantly follow up on marketing opportunities or manually send out personalized notes to prospective clients. That said, nurturing prospective clients is one of the most important elements in building a long-term, sustainable client base.
It doesn't need to be all or none, though.
When it comes to balancing existing obligations with the need for marketing, law practices can use marketing automation to streamline email campaigns, reach more leads in less time, and create data-driven strategies that work.
How Marketing Automation and Email Drip Campaigns Work in Tandem for Law Practices
Client relationship management (CRM) systems often have marketing automation features that allow you to create tailored email campaigns, which can be sent automatically in response to a trigger (such as someone filling out a contact form on your website). These types of automated email campaigns can be critical, as law firms are 100 times more likely to connect with a lead within five minutes after the first point of contact.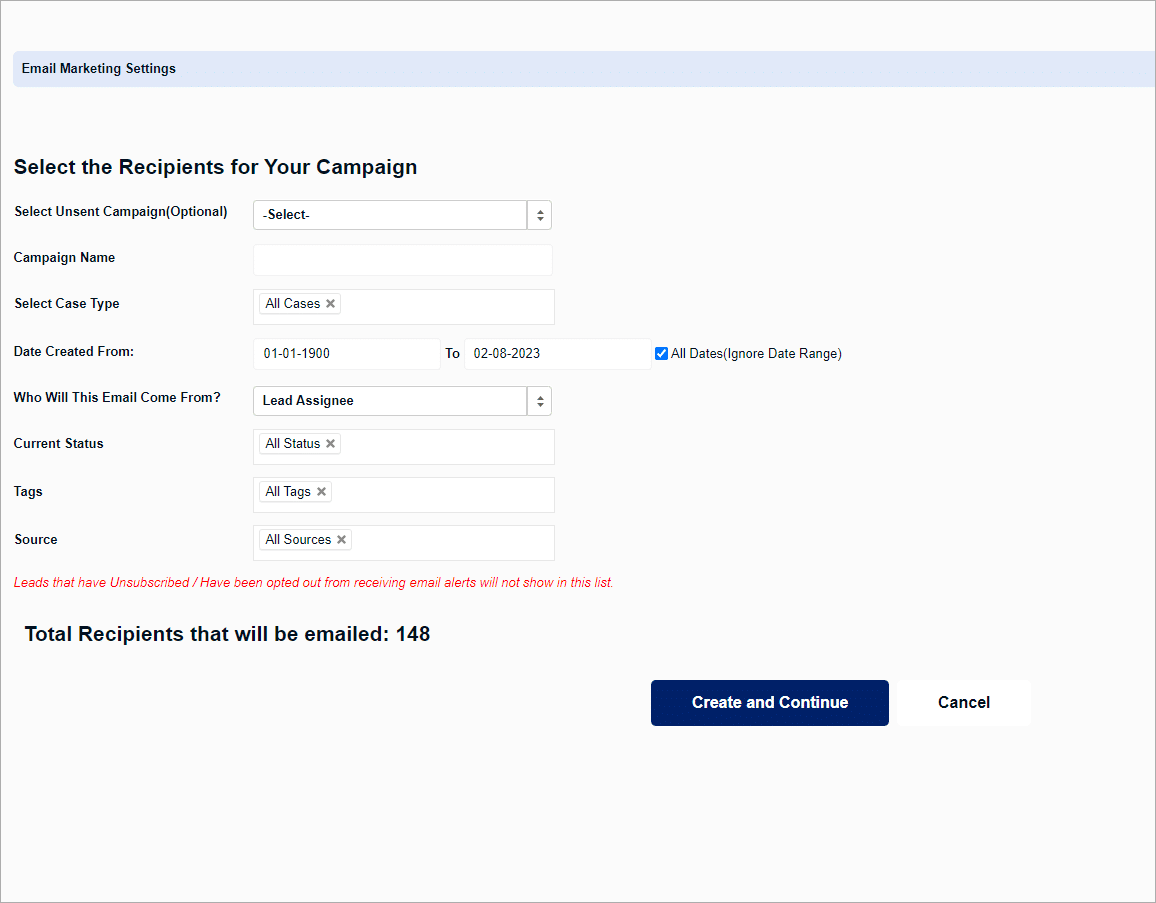 Email drip campaigns are some of the most reliable ways for law firms to build educated and trusting client bases because they guide prospective clients on a journey toward understanding your firm and what you can do for them. Each pre-written message, or "drip," delivered to potential or current clients should lead them toward a particular goal or call to action (CTA).
Email drip campaigns can increase your opportunities to sign new clients, but just as importantly, when done right, they build trust and establishes your firm as a reliable resource. As such, you stay top of mind when your leads need legal services.
If you're new to email marketing, a legal-specific CRM can simplify the process. Email drip campaigns can take some time to set up initially, but once a drip campaign is set up, it requires minimal maintenance and oversight while providing tailored responses to predetermined client actions.
How to Use Email Drip Campaigns at Your Law Firm
Your legal marketing drip campaigns can be tailored to your goals and target audience. While many drip campaigns are set up around converting new leads into clients, there are valuable use cases for email drip campaigns for both prospective and long-term clients. You can use drip campaigns to:
Keep current clients engaged
Re-engage previous clients or clients who failed to convert
Run a welcome campaign for newly converted clients
Share relevant policy updates, firm services, events, or information based on your client's area of interest
Request reviews following completed legal matters
The Keys to a Successful Email Campaign
Email campaigns can lead to significant results with less effort, especially if you take the time to optimize your strategy from the start. Here are some key steps that will take your marketing automation to the next level:
Identify Your Target Audience
Every law firm has an ideal client. To determine the target audience, ask yourself:
What do your most profitable clients have in common?
Who needs the legal services your firm provides?
Where are these individuals located?
What content and information will serve them?
What methods are they likely to use when accessing the information they need?
Once you have your general target audience, separate that audience into groups—you might divide your audience by age, location, profession, or previous legal matters, for example. It's common for clients or prospects to fall into more than one segment, but try to create distinct target audiences. The more you can define and understand them, the easier it will be to create effective messaging.
Develop Your Firm's Messaging
Each time you make contact with a lead or client, your message should be concise and specifically related to one of the triggers you've set up. You should always include a clear CTA. For example, invite recipients to schedule their consultation, learn more about a certain practice area, or confirm an upcoming meeting. (But don't overload your emails with too many CTAs—this can water down your results!)
If your copywriting bandwidth is limited, consider engaging a legal copywriting service to help craft the right messaging for your law firm. This can save you time and money, and ensure an effective end result.
Use Data Analysis to Refine and Improve Your Messaging Over Time
While email drip campaigns are a powerful tool, they have to be calibrated correctly to deliver results. To understand your campaigns' ROI and make effective adjustments, your firm will need to be able to track campaign metrics and run regular reports.
For this reason, it's important to use marketing automation software that offers dashboard analytics and reporting features.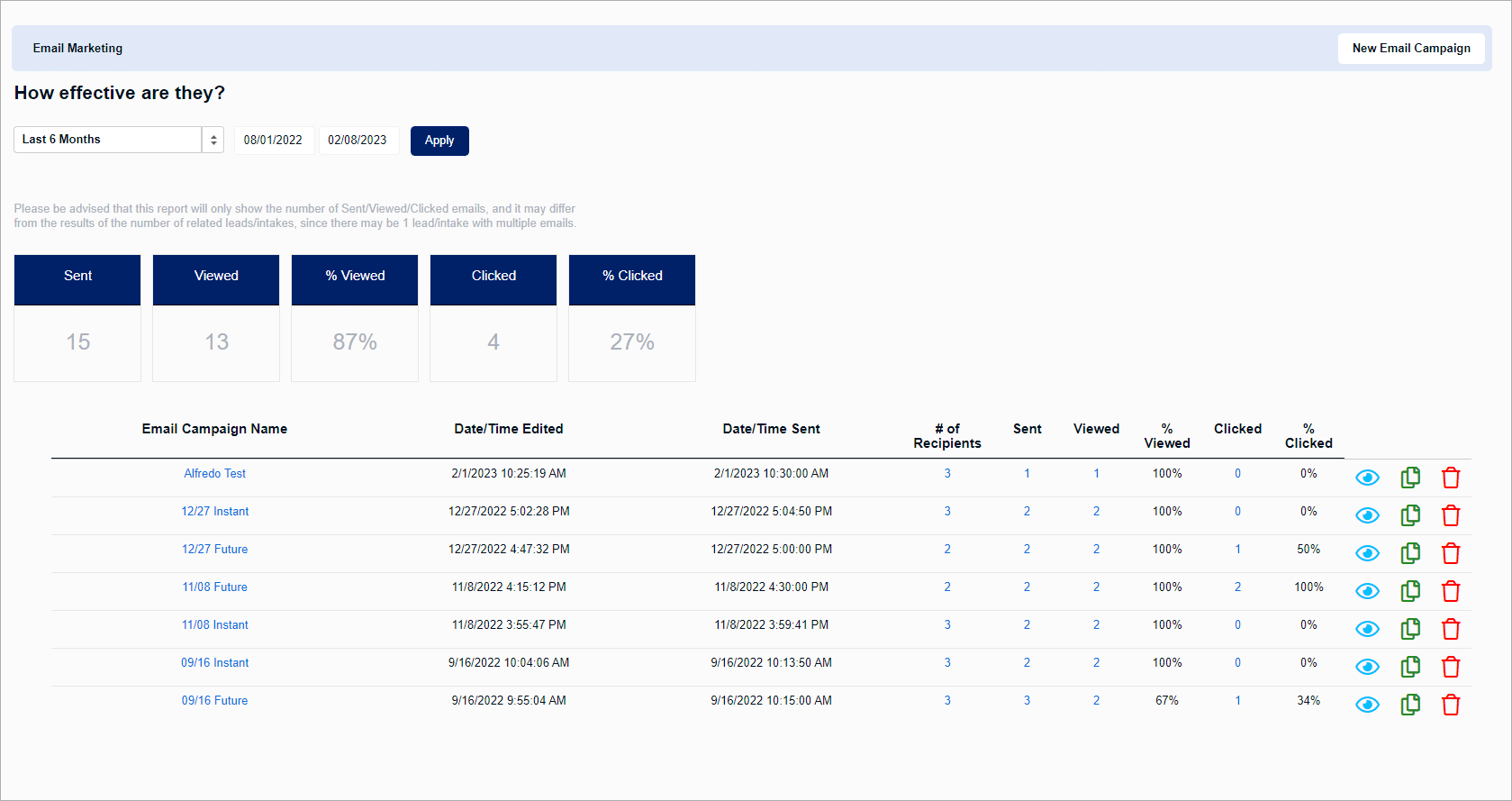 Once you work through campaigns and learn more about your audience, you can add triggers, adjust your messaging, and contact leads more or less frequently depending on what works for your team. With data analysis, your firm can assess the efficacy of your current campaigns and make adjustments as needed.
Explore the Possibilities of Marketing Automation With Law Ruler
Fuel your law firm's growth without sacrificing time, energy, or money with legal CRM marketing automation tools.
If you're ready to uplevel your marketing efforts, boost your conversion rate, and better serve your legal clients, contact us today to schedule your free Law Ruler demo.
SPONSORED CONTENT. Product Spotlight showcases content provided by Attorney at Work sponsors and advertisers. This does not constitute endorsement by Attorney at Work. See Terms and Conditions for more information.