So far in this digital marketing series, we've talked about defining your marketing strategy, building your law firm's brand, improving your intake/sales process, and the importance of directory listings. Now it's time to talk about why online reviews are so important and set up a process that makes it simple for clients to give your good reviews.
By now, you have heard that online reviews are important for your law firm. Law firms that cultivate a culture of client feedback in their practice understand the benefits. Still, when I speak at conferences (or webinars), I'm always asked whether people really care about or even read law firm reviews.
Online Reviews Are the Cornerstone Tool for Protecting Referrals
Online reviews not only reassure someone who has never heard of your firm. They are also critically important when someone has been referred to your firm. Remember, when someone refers a friend or family member to you, that prospective client will likely Google you before they reach out to you.
You may be ahead of your competition because you were referred, but when someone Googles your name, the referral is either supported or contradicted by what they see.
One of the best ways to help your referral network is to be able to point to other happy clients who openly "refer you" online by leaving positive reviews on sites like Google, Facebook and Avvo.
Look at the screenshot below. What do you think is going through the head of someone referred to this firm by a friend or family member? You better believe that this search result should confirm everything their friend told them and more.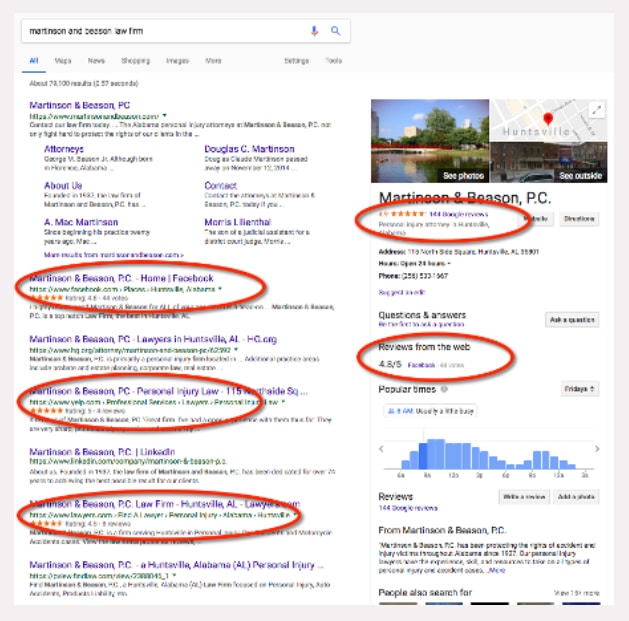 Having a search result that looks like this often leads to someone clicking on the phone number in your Google My Business profile without even visiting your website.
Social Proof
In his book "Influence: The Psychology of Persuasion," Robert Cialdini talks about the concept of "social proof" as one of six key principles that influence consumer behavior. It has been shown that the less experience someone has with a product or service, the more they tend to rely on outside informational opinions. This concept was supported by a 2008 study reported in the Journal of Consumer Psychology by David Wooten, a marketing professor at the University of Florida. Hiring a law firm is something most consumers have little to no experience with, so outside opinions are weighed very heavily. Online reviews are one very visible form of social proof that consumers now rely on.
Whether it is innate consumer behavioral psychology or the fact that Amazon has been training us for decades, we know that social proof in the form of online reviews influences prospective clients. Other forms of social proof are recognition from the legal or local community in the form of awards or positive press. You want this social proof coming up in the search engine results for your name.
How Many Reviews?
The biggest question I get from law firm owners is, "How many reviews do I need?" There is no simple answer, but my rule of thumb is to double the number of reviews on Google that your best competitor has. To get this number, do a little research on your online competitors by searching for "[your practice area] lawyer near me" on Google and looking at the firms that come up. While this many reviews may not affect the perception of the referral that was sent your way, it will definitely improve your standing in local search results down the road.
Where does your firm stand when you Google your firm name and the key attorney names at your firm? How many reviews do you have on Google MyBusiness, Facebook, Avvo, Yelp, Lawyers.com and the like?
Your goal for the next year is to get at least twice as many reviews on Google as your competition and just as many on the other review sites.
Beware of Online Review Algorithms
Review platforms like Google, Yelp and Facebook know that providing local business reviews is an important service for consumers, and they are aware of how reviews influence consumers' decisions. Therefore, most platforms take reviews that show up on their system very seriously and work to protect their site from fake reviews. This is a complex problem for them to solve, and not even close to a perfect science. Because of the massive volume of online reviews, they must build algorithms that determine whether or not a review is valid. These algorithms are built to highlight the best reviews and to get rid of the spam, but this often frustrates local business owners, like a local law firm. The algorithms tend to have a lot of false positives, which means real reviews are too often ignored. Yelp, for example, is one of the tightest algorithms you will face.
Asking for Reviews
Law firms have tried all sorts of things to entice people to leave them reviews. Using kiosk stations and sending out gift certificates for leaving a review are banned by most review sites — and frowned on by many state bar associations. What review sites want is authentic and non-requested reviews from consumers about a business.
While this works fine for restaurants, hotels and other high-traffic businesses, it doesn't work as well for professional businesses like law firms, doctors and accountants. Most clients don't think to leave a review until they need a place to vent and complain.
So, you will have to remind clients that they can and should leave a review for your law firm.
What Should You Say?
To jumpstart the process, I recommend identifying your 20 best clients from the past few years. Send each a note that says something like this:
I am working on my law firm's online presence and marketing and have found that online reviews are a great way for satisfied clients to help us assist more people in the area. Because you were a great client to work with and someone who received a great outcome with our law firm's help, I was hoping you could leave us an online review.
Most people will say yes, but often don't know how to do it. For this first list of 20 people, make it simple.
Ask if they have a Gmail or Google apps account. If they do, send them the link to your Google My Business page where they can leave a review.
If they do not have a Google account, ask if they have a Facebook account. If they do, send them a link to your Facebook page.
If they do not have either of those, send them to your Avvo profile, as they can leave an anonymous review there.
What Should They Say?
Once you have directed clients where to leave a review, the next hurdle is that most won't know what to say. Also, many don't want to talk about the sensitive details of their case, which is good, because you don't want that either, due to state ethics rules. So, go ahead and let each client know that you would prefer they didn't discuss any specifics of their case. Ask them to talk more about what it was like to work with your law firm and the service quality they received.
Don't be surprised if you have to follow up to get the review. You have probably been asked to leave a review for a business, which you graciously agreed to and promptly forgot because life got in the way. Once a week, keep an eye out for any new reviews. Follow up with those who said they would leave a review but haven't, with a quick phone call or email reminder. For those who do leave a review, send a quick thank-you. And this is key: Also thank them by responding publicly on the review platform if that is allowed.
Build Reviews Into Your Process
We started by reaching out to your best 20 clients. But to get to your goal to get at least twice as many reviews as your competition and just as many on the other review sites, you need to build asking for reviews into your law firm's culture and processes. And, as we'll discuss below, building reviews and feedback into your firm's culture has greater benefits as well.
The best way to receive reviews is simple but tedious. You just need to ask for them and then follow up, and likely follow up again and again. You can do this during phone calls or conversations at the end of the matter, but also mail or email clients to ask for reviews. Of course, always keep in mind the ethics issues in your state.
Here is a sample review request you could send to a client upon completing their case:
Dear Client,
Thank you for working with our law firm. To help others just like you find our firm and know the work we do, it would be appreciated if you could take five minutes to leave us a review online.
Please avoid talking about details of your case, and please do not use words like "best" or "guarantee." Just give your honest opinion of what it was like to work with the team at our firm. 
Here are links to our profiles:
goo.gl/123aBc
facebook.com/attorneyprofile
avvo.com/attorneyprofile
Thank you in advance for your time.
Sincerely,
Lawyer
While our biggest focus is on Google My Business reviews, you do want diversity so that more reviews and stars show up in the search results for a variety of review websites. One way to do this is to ask your client if they already have an account on one of the various review sites (Yelp, Facebook, Google, etc.). It makes it that much easier for them to leave a review saying what a wonderful job you did.
Honest, Ongoing Feedback Leads to Continuous Improvement
As you begin the process of asking for reviews, I encourage you to look at these reviews not only as a tool to "protect your referrals," but also as an opportunity to get feedback from everyone.
The top question I get about online reviews is what happens when you get a negative one. At some point, you will get a negative review — or a review that is positive but has some "room for improvement" notes.
Most of the time, negative reviews happen not because of the outcome of a case, but because there was a misunderstanding or communications breakdown. The client was not given a simple opportunity to discuss their concern directly with the law firm.
Once you provide an opportunity and a place in your process for clients to give feedback and vent frustration, you can find problems in client communication or other issues you may not have been aware of. Ideally, you want to learn about these issues before they become a negative review online.
This is what continuous improvement is all about. I promise that if you allow clients to talk and listen to their feedback, your firm will naturally improve its client service.
Feedback and Review Tools
One of the best ways to turn from just trying to get online reviews into a firm focused on continuous improvement is with client surveys. Create a simple survey questionnaire for all clients to complete at the end of their case. If you want to get advanced, send the questionnaire a few times during the course of the matter, especially if it lasts more than three months.
In fact, try to think of other places to add client surveys to your firm's processes.
Your survey form can be as simple as asking clients to rate you on a scale of 1 to 5 stars, with space for feedback on why they rated you that way. Or it can be more complex. You might include Net Promoter Score questions (NPS) and prompt for ratings or feedback on different areas of your firm such as office location and appearance, staff friendliness, timely communication and so on.
Of course, if someone gives you four or five stars on your internal forms or writes some nice comments, then you should prioritize following up with them for a review, even mentioning that they could just copy and paste what they've already written about you.
The survey can be a paper form, but we suggest using an online questionnaire on your website. Data and trends will be easier to track, including staff performance.
Most agencies like ours have proprietary tools that law firm clients use to manage their online reviews, but there are other great tools out there, such as GatherUp and Birdeye. You can also use free tools like Google Forms or SurveyMonkey.
Warning: Do not be enticed by "review mills" that promise all kinds of reviews for your firm. Many get these numbers by creating fake reviews. In the past few years, Google, Yelp and even an attorney general increasingly targeted companies faking reviews. Google has filtered reviews from Google My Business pages with no explanation. Yelp sued a law firm for repeatedly trying to create fake reviews on its Yelp listing. And the attorney general of New York executed a sting operation investigating businesses using fake reviews and issued penalties totaling $350,000.
We do not recommend using a review service at all except for those mentioned above, which give you access to back-end dashboards and can also sit on your website.
You can learn a lot about the little things you can improve that will lead to better client satisfaction by simply asking for feedback.
Build a Company Culture of Reviews
As an owner of your practice and reputation, you have a strong reason to be passionate about getting feedback from all clients. You can't do it alone, though, and need to get your entire team on board.
If you are serious about building a culture of customer satisfaction at your firm, it will really move your online reviews to a new level. We have seen many clients succeed by putting an incentive system in place with their team. Some ideas that work include:
Setting a monthly or quarterly team goal of 100% of internal client feedback forms completed, rewarded by a team incentive of $XXX for each member.
Setting individual goals to get authentic reviews they can get their clients to put online after the internal feedback forms are reviewed. We have seen firms give $25 for every review to jumpstart things, for example, and then move to something like a gift card of $100 for every 10 online reviews.
Giving a quarterly award with a bonus for the best customer satisfaction process adjustment made based on reviewing feedback forms.
Quite a few law firms have gone from a handful of reviews to more than 100 in under 12 months with these strategies. Be careful, though. You don't want to send red flags to the spam-fighting algorithms by getting 100 new reviews in a month. Instead, build this into your process, and you can get at least five reviews every month.
One attorney told me that the small investment in these incentives really showed his team that the firm was serious about improving customer satisfaction. Within months it snowballed into more positive changes by his team than he could have ever imagined.
Most of the changes will likely be simple to implement, too. I heard one firm say that when they started asking clients how they want to be communicated to (email, phone, text) and following through on that, it drove satisfaction way up. Another said they added the ability to take credit card payments after seeing it was a top item of frustration on the feedback forms.
What will you learn about your firm? If you are in the thick of things every day trying to practice law to the best of your ability, you are likely missing a lot of little things that could propel your clients' happiness forward.
Finally, keep in mind that small incentives that reward positive behavior are a whole lot cheaper than paying a reputation management and PR firm to do the work necessary to hide all the bad online reviews. While it will be great that you are protecting your referrals with all of this social proof, you are also staying top of mind and reminding these former clients that you are here to help their friends and family with your firm's various practice areas.
Happy clients and top-of-mind awareness mean more future referrals for your law firm!
Catch Up on Mark Homer's Digital Marketing Series
So far in this series on internet marketing for law firms, we've tackled:
Illustration ©iStockPhoto.com
Subscribe to Attorney at Work
Get really good ideas every day for your law practice: Subscribe to the Daily Dispatch (it's free). Follow us on Twitter @attnyatwork.