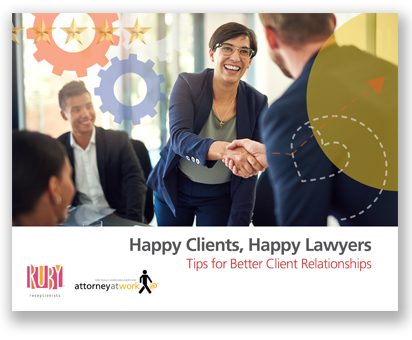 Tips for Better Client Relationships
Looking for ways to increase client satisfaction — and reduce your own daily stress in the process? With the help of Ruby Receptionists, our new e-guide offers practical ideas for improving communications, tightening up your systems and applying practical technology tools to create a more efficient and less-stressed law practice. You'll find ways to:
Boost the client trust connection.
Upgrade your intake process.
Calm anxious clients.
Use technology to communicate more effectively.
Make clients happy to pay your bills.
Plus, learn how firms are implementing health and wellness programs.
Download  "Happy Clients, Happy Lawyers: Tips for Better Client Relations" today!